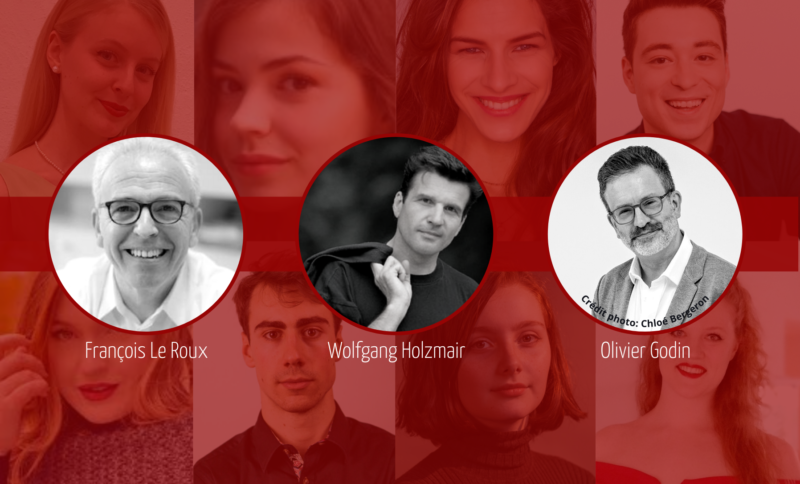 Event details
Wednesday | 6 July 2022
19:00
2901 Bd Saint-Joseph Lachine, QC H8S 4B7
As a way to close the 5th edition of the Lachine international Vocal Academy, Concerts Lachine presents a benefit concert during which we will celebrate several anniversaries, including the 45th anniversary of Concerts Lachine. 


WITH PERFORMANCES BY:
Wolfgang Holzmair, baritone – Lieder by Beethoven
François Le Roux, baritone – French songs
Olivier Godin, pianist
Singers from the Academy: Minna Tägli, soprano; Natacha Henry, soprano; Sophie Naubert, soprano 
Viviane Roberge, violin
Agnès Langlois, cello
A unique chance to hear Holzmair, Le Roux and Godin, professors at the Academy who have major international careers. 
TICKETS
CONCERT
Individual ticket: $30
CONCERT + COCKTAIL
Individual ticket: 100$ (tax receipt)
Table of eight in your name: 800$ (tax receipt)



Details
WEDNESDAY JULY 6, 2022: L'entrepôt (2901, Boul. St-Joseph, Lachine) 
7:00 p.m. concert starts 
A cocktail will follow for benefit ticket holders
EXCLUSIVE BENEFIT COCKTAIL  
Intimate reception and animation
In the presence of artists and participants of the Academy
Sparkling wine and hors-d'oeuvres offered
WHERE WILL THE PROFITS GO? 
It will allow us to continue our activities with young students 
From the Lachine international Vocal Academy  
From the primary and secondary schools of Lachine
YOU CANNOT ATTEND? 
You can donate (tax receipt)
Program
Programme
Ich wollt' meine Lieb' ergösse sich (Heine) 
Wolfgang Holzmair, baryton
Minna Tägli, soprano
Olivier Godin, piano

Félix Mendelssohn
(1809 – 1847)

Was weinst du, Blümlein
Minna Tägli, soprano
Olivier Godin, piano 

Clara Schumann
(1819 – 1896)

Wiegenlied (Hebbel)
Natasha Henry, soprano
Wolfgang Holzmair, baryton
Olivier Godin, piano 

Robert Schumann
(1810 – 1856)

Ich und Du
Wolfgang Holzmair, baryton
Sophie Naubert, soprano
Olivier Godin, piano

Peter Cornelius
(1824 – 1874)

Die Taubenpost (Seidl) 
Der Wanderer an dem Mond (Seidl) 
Wolfgang Holzmair, baryton
Olivier Godin, piano

Franz Schubert
(1797 – 1828)

8 Irish, Scottish and Welsh Songs
The sweetest lad was Jamie
No more, my Mary, I sigh for Splendour
Faithfu' Johnie
When far from the Home
Waken Lords and Ladies gay
The Deserter
Sunset
The Pulse of an Irishman

Wolfgang Holzmair, baryton
Olivier Godin, piano
Viviane Roberge, violon
Agnès Langlois, violoncelle

Trad./Ludwig van Beethoven
(1770 – 1827)
INTERMISSION (10 minutes)
POPULAR FRENCH MUSIC FROM THE XIXth & XXth CENTURIES

Madame Arthur (Paul De Kock)
Le Fiacre (Léon Xanroff)
La Complainte de la Butte (Georges Van Parys / Jean Renoir)
Attendez le prochain bateau (Georges Van Parys / Louise de Vilmorin)
J'suis snob (Boris Vian)
Le Bateau-Lavoir (Les Frères Jacques)
Sur les quais du vieux Paris (Ralph Erwin / Louis Poterat)
Syracuse (Henri Salvador / Bernard Georges Dimey)
La Complainte de Gilles (Jacques Douai / Jacques Prévert)
Monsieur William  (Léo Ferré / Jean-Roger Caussimon)
Je ne t'aime pas (Kurt Weil / Maurice Magre)
Les Don Juan (Michel Legrand / Claude Nougaro)

François Le Roux, baritone
Olivier Godin, piano
Biographies
Wolfgang Holzmair, baritone
Wolfgang Holzmair was born in Vöcklabruck, Austria, and studied at the Vienna Academy of
Music and Dramatic Art with Hilde Rössel-Majdan (voice) and Erik Werba (lied).
The singer performs in recital throughout the world, including London, Lisbon, Moscow,
New York, Seoul, Washington, at the Risör Festival (Norway), Bath, Belfast and Edinburgh
festivals (UK), Menuhin Festival (Switzerland), Bregenz and Carinthian Summer festivals
(Austria) in collaboration with leading accompanists and pianists of our time.
Holzmair is also active in the opera world. Roles include Masino in Haydn's La vera
costanza, Papageno and Speaker of the Temple (Magic Flute), Don Alfonso (Cosi),
Eisenstein (Fledermaus), Wolfram (Tannhäuser), Faninal (Der Rosenkavalier), Music Master
(Ariadne), the Father (Hansel and Gretel by Humperdinck), Danilo (The Merry Widow),
Eduard (Neues vom Tage by Hindemith) or Demetrius (A Midsummernight's Dream by
Britten).
Francois Le Roux, baritone
François Le Roux began his singing studies with François Loup, then entered the Paris Opera-Studio, where he had teachers Vera Rosza, then Elisabeth Grümmer. He won the "Maria Canals" competition in Barcelona (1978) and the international song competition in Rio de Janeiro (1979). From 1980 to 1985, he was a member of the Lyon Opera troupe. Then he began an international career: La Scala in Milan, Covent Garden in London, Venice, Vienna, Munich, Hamburg, Zürich, Paris, Los Angeles, San Francisco, Colon de Buenos Aires and the festivals of Aix en Provence, Edinburgh, Glyndebourne, Schwetzingen, Hong Kong, Santa Fé, Wiener Festwochen …
In its vast repertoire let us quote:Pelléas (in the opera by Debussy Pelléas et Mélisande), which he recorded for "Deutsche Grammophon" under the direction of Claudio Abbado in Vienna in 1991, then Golaud in the same opera since 1998; he was the Golaud of the centenary of the creation of Debussy's opera at the Opéra-Comique on April 30, 2002, and that of the first stage of the work in Moscow, at the Stanislavski-Nemirovitch-Danchenko Theater in 2007, with great success.
Olivier Godin, pianist
A native of Montréal (Canada), Olivier Godin is pursuing a brilliant career both in Canada and abroad. He works as a collaborative pianist and vocal coach at McGill University. He performs regularly with renowned musicians and in numerous festivals. As a repetiteur, he has collaborated with conductors such as Charles Dutoit, Yannick Nézet-Séguin, Agnès Grossmann, Franz-Paul Decker, Raffi Armenian, Joseph Rescigno, Jean-Marie Zeitouni and Kent Nagano. He also works as a collaborator at the summer academy of the Orford Arts Center where he is in charge of the vocal accompaniment course for pianists. He presently holds a position as professor and co-director of the opera studio at the Conservatoire de musique de Montréal, where he works with promising young singers.
Olivier Godin collaborates on a regular basis with baritone Marc Boucher, with whom he has undertaken to revitalize French Melodie. Together they have performed in France, notably in Paris (some concerts were broadcasted by France Musique), at the Académie Francis Poulenc – Centre International de la mélodie française in Tours, and at the Albert-Roussel International Festival….