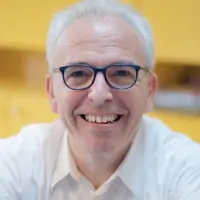 François Le Roux began his singing studies with François Loup, then entered the Paris Opera-Studio, where he had teachers Vera Rosza, then Elisabeth Grümmer. He won the "Maria Canals" competition in Barcelona (1978) and the international song competition in Rio de Janeiro (1979). From 1980 to 1985, he was a member of the Lyon Opera troupe. Then he began an international career: La Scala in Milan, Covent Garden in London, Venice, Vienna, Munich, Hamburg, Zürich, Paris, Los Angeles, San Francisco, Colon de Buenos Aires and the festivals of Aix en Provence, Edinburgh, Glyndebourne, Schwetzingen, Hong Kong, Santa Fé, Wiener Festwochen …
In its vast repertoire let us quote:Pelléas (in the opera by Debussy Pelléas et Mélisande), which he recorded for "Deutsche Grammophon" under the direction of Claudio Abbado in Vienna in 1991, then Golaud in the same opera since 1998; he was the Golaud of the centenary of the creation of Debussy's opera at the Opéra-Comique on April 30, 2002, and that of the first stage of the work in Moscow, at the Stanislavski-Nemirovitch-Danchenko Theater in 2007, with great success.
In Mozart's operas: The title role of Don Giovanni (Critic's Prize "Revelation of the year" in 1987 in Paris), Papageno de La Flûte Enchantée, Le Comte Almaviva des Noces de Figaro, Guglielmo by Cosi Fan Tutte …
In the Italian operas: Figaro from the Barber of Seville, Dandini from La Cenerentola at Rossini, Malatesta in Don Pasquale by Donizetti, Marcello from La Bohême, Ping de Turandot from Puccini … In the baroque opera: Oreste in Iphigénie en Tauride by Gluck, Pollux in Castor and Pollux by Rameau, the title roles of Orfeo and Ritorno d'Ulisse by Monteverdi … In French opera: Ramiro de L'Heure Espagnole by Ravel, The Director and The Gendarme of the Mamelles de Tirésias, Le Marquis des Dialogues des Carmélites by Poulenc, Lescaut in Manon by Massenet …
And finally the world premiere of contemporary operas: The Day of the Murders in the History of Hamlet by Pierre Thilloy (role of Claudius), Dangerous Liaisons by Piet Swerts (role of Valmont), Modern Painters by David Lang (role of John Ruskin), the title roles of Gawain by Harrison Birtwistle, Prinz von Homburg by Hans Werner Henze, Leiden des jungen Werthers by Hans Jürgen von Bose, Verlaine Paul by Georges Boeuf …
François Le Roux is also recognized as the worthy successor to Panzéra, Souzay and Maurane in the field of lied and French melody, both on stage and on record: Accompanied by Graham Johnson, Jeff Cohen, Pascal Rogé, Christian Ivaldi, Olivier Godin, he sings in recitals all over Europe and America. Among his many recordings, let us note: The integral of the melodies of Henri Dutilleux (Passavant Music, 2016) with Olivier Godin, the "melodies of Albert Roussel with orchestra" in world premiere (BMG-RCA), Charles Cros Academy Prize 1999 , under the direction of Jacques Mercier, Ernest Chausson's "Poem of Love and the Sea", with the Orchester Symphonique de Montréal, conducted by Charles Dutoit (DECCA-Universal), melodies by Debussy (Chant du Monde, with Noel Lee, and LIGIA Digital with Jean-Louis Haguenauer), Ravel (Chant du Monde, with Pascal Rogé), melodies and Lieder by Joseph Kosma (DECCA-Universal "Les Feuilles mortes", with Jeff Cohen), melodies by Louis Durey, Saint-Saëns, Séverac (Hyperion Records, with Graham Johnson) …
Since 1990, he has been invited to give master classes on the interpretation of French melody and the lied: in Lyon (National Conservatory of Music), at the École Normale de Musique and at the CRR de Paris, in Helsinki ( Sibelius Academy), in Spain (Escuela Superior de Canto de Madrid), at the "Center d'Art d'Orford" and at the "Domaine Forget" (Québec / Canada), at the Source Song Festival in Minneapolis (USA), in South (Uruguay, Argentina, Venezuela), in Taipei (Taiwan), in Kyoto (Japan). He was a voice teacher at the Ravel Academy in Saint Jean-de-Luz from 2006 to 2011, then at the CMA in the 18th arrondissement of Paris from 2012 to 2014, at the CNSMD in Paris from September 2014 to September 2015, and currently a professor of singing at the École normale de musique de Paris Alfred Cortot.
In 1997, he founded the Francis Poulenc Academy of Interpretation of French Melody in Tours, then the International Documentation Center on French Melody, of which he is the artistic director. He was prime contractor for the series of recitals of melodies at the Bibliothèque nationale de France in Paris, alongside Alexandre Tharaud and Jeff Cohen, from 1997 to 2002. His first book, written with the assistance of Romain Raynaldy, and edited by Fayard: Le Chant intime, on the interpretation of the melody, won the 2004 René Dumesnil Prize from the Academy of Fine Arts. It has been translated into Japanese, and edited in Tokyo by Shunjusha. The English translation will be published in 2018 at Oxford University Press in New York. A second book entitled L'opéra français-une question de style will be published in 2018 by Hermann.
Il a été honoré du grade de chevalier dans l'Ordre des Arts et des Lettres en 1996, désigné "Personnalité musicale de la saison 1997-1998" par le Syndicat Français de la Critique musicale et dramatique, et nommé aux « Victoires de la musique » en 2015 et 2018.
Ayant terminé l'année 2017 dans le rôle du Professeur Higgins de la comédie musicale My Fair Lady de Frederick Loewe à l'Opéra de Marseille, il débute l'année 2018 par une série de récitals, beaucoup d'entre eux consacrés au centenaire de la mort de Debussy. Il sera à l'automne 2018 « Pandolphe » dans une nouvelle production de Cendrillon de Massenet à Nantes et Angers.