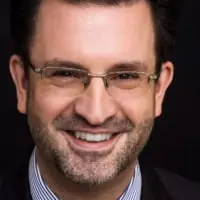 A native of Montréal (Canada), Olivier Godin is pursuing a brilliant career both in Canada and abroad. He works as a collaborative pianist and vocal coach at McGill University. He performs regularly with renowned musicians and in numerous festivals. As a repetiteur, he has collaborated with conductors such as Charles Dutoit, Yannick Nézet-Séguin, Agnès Grossmann, Franz-Paul Decker, Raffi Armenian, Joseph Rescigno, Jean-Marie Zeitouni and Kent Nagano. He also works as a collaborator at the summer academy of the Orford Arts Center where he is in charge of the vocal accompaniment course for pianists. He presently holds a position as professor and co-director of the opera studio at the Conservatoire de musique de Montréal, where he works with promising young singers.
Olivier Godin collaborates on a regular basis with baritone Marc Boucher, with whom he has undertaken to revitalize French Melodie. Together they have performed in France, notably in Paris (some concerts were broadcasted by France Musique), at the Académie Francis Poulenc – Centre International de la mélodie française in Tours, and at the Albert-Roussel International Festival. They have also made several recordings: Musiques sur l'eau et autres mélodies by Théodore Dubois (which was awarded the Opus Prize for best album in 2007 and 5 Diapasons from the French magazine Diapason), Les Fleurs du mal, de Fauré à Ferré (which consists of melodies inspired by the poems of Charles Beaudelaire), as well as the complete melodies of Duparc (in nomination for an Opus Prize in 2012). As great supporters of Quebec music, the Boucher Godin duo has premiered the Chant pour un Québec lointain by Rachel Laurin (with poems by Madeleine Gagnon) and the Bestiaire amérindien by Marc Ouellette (with poems by Bertrand Laverdure). He has also recorded the world premiere of Emile Pessard's Twenty-five pieces for the piano as well as the complete works for two pianos by Sergei Rachmaninov with pianist Myriam Farid.
A versatile musician, Olivier Godin can also be heard with baritones François Le Roux and Bruno Laplante and with soprano Anne St-Denis (with whom he has recorded the song cycles for female voice by Théodore Dubois and performed in recital at the Bru Zane Palazetto in Venice, Italy). He has recently recorded the works of Théodore Dubois for piano four-hands with pianist Carole Dubois. Together, they performed in France at the Festival de la Tour in Nébian, as well as in Reims and Venice. Moreover, he has performed with singer Diane Dufresne and Les Violons du Roy. A founding member of the Orford Six Pianos ensemble (2006-2011), Olivier Godin has participated in the recording of the ensemble's CDs. These recordings contain many of his own arrangements of orchestral masterpieces for six pianos.