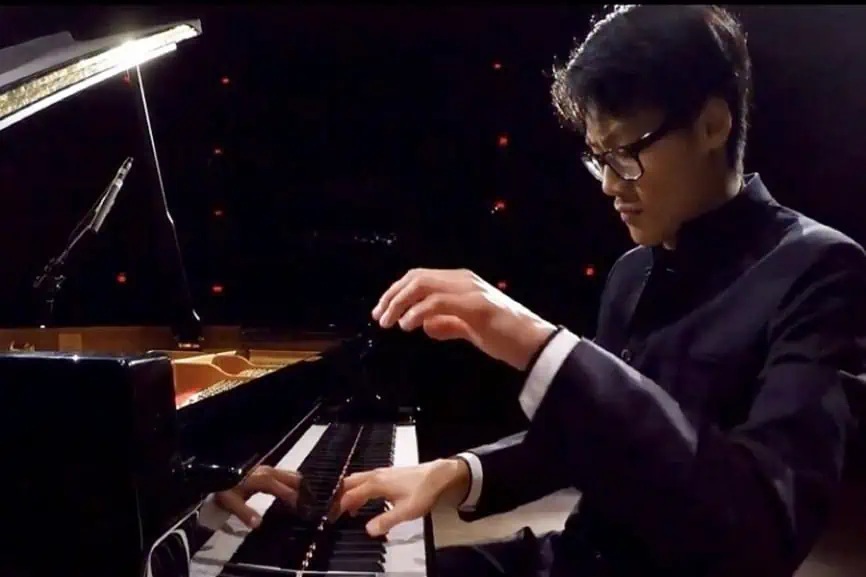 Event details
Sunday | 20 November 2022
11:00
L'Entrepôt: 2901, boul. Saint-Joseph, Lachine, QC H8S 4B7
5$ adults | Free for children
For eighty years, the Conservatoire de musique de Montréal has trained young musicians and lyrical artists of great talent such as Yannick Nézet-Séguin and Marie-Nicole Lemieux. Come and discover some musicians from a new generation of performers who continue their learning under the tutelage of some of the most famous pedagogues in North America.
Details
The Notes and Brioches series is pleased to welcome Zhan Hong Xiao, pianist.
Access
Tickets can be bought at the concert hall 30 minutes before the concert
Concert hall is large enough to allow social distancing
Arrive at 10h30
Juice, coffee and threats are served before the concert
Biography
Born in China, Zhan Hong Xiao discovered music at his elementary school, the Maîtrise des Petits Chanteurs du Mont-Royal. He is currently completing a Masters at the Conservatoire de Montréal in the class of Richard Raymond. In 2015, he represented Quebec at the CFMTA National Piano Competition where he won 2nd. prize and two other special prizes. In 2017, he won the Grand Prix for the program Virtuose broadcast on Radio-Canada. In 2018, he received 3rd. prize in the OSM's national competitionAt the international level, he was awarded 1st prize at the Orbetello competition in Italy and was a semi-finalist at the international competitions of Ferrol in Spain and Poznań in Poland. As a soloist, he has notably performed with the Sinfonia de Lanaudière at the Festival International de Lanaudière, three times with the Orchester Métropolitain at the Maison Symphonique and with the Orchester Classique de Montréal. On the radio, his recordings have been broadcast on CBC Music and ICI Musique Radio-Canada. Zhan thanks the Hnatyshyn Foundation and the Conservatory Foundation for their generous support.
Program
Nocturne en do dièze mineur, Op. 27 No.1

Préludes Op. 28 (sélection)
Agitato
Lento
Vivace
Largo
Molto allegro
Lento assai
Andantino
Molto agitato
Largo
Molto allegro
Vivace
Presto

Sonate No. 3 en si mineur, Op. 58
I. Allegro maestoso
II. Scherzo: Molto vivace
III. Largo
IV. Finale: Presto non tanto

FRÉDÉRIC CHOPIN
(1810 – 1849)
---
Thank you to our partners and sponsors
Grants
Season sponsors gold
Season sponsors silver
Season sponsors bronze
Concert sponsors