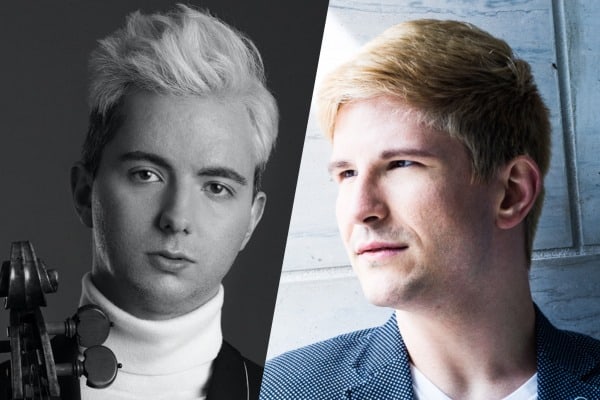 Event details
10 July 2021
19:30
L'Entrepôt Concert Hall- complexe Guy-Descary 2901 Saint-Joseph Blvd, Lachine, QC H8S 4B7
Free Admission | Suggested Donation : $10
Cellist Stéphane Tétreault and pianist and arranger Olivier Hébert-Bouchard present a tantalizing array of works by the legendary Claude Debussy, transcribed for cello and piano.
CONCERT PRESENTED BY: Cabinetdentaire.ca & Rona Lachine
This concert is held at L'Entrepôt Concert Hall 
A ticket is required to access the Concert hall (no ticket can be obtained at the Concert Hall)
SCHEDULE:  
Introductory talk 19h10
Concert 19h30
COMPLIANCE WITH THE MEASURES : 
Seats are be pre-assigned
Physical-distancing rule is observed
Areas have been setup for each spectator or each group of spectator living at the same address
Staff and volunteers will ensure compliance with the rules
FOR A PLEASANT AND SAFE EXPERIENCE FOR ALL, PLEASE: 
Arrive at least 15-30 minutes before the start of the concert
Follow the instructions of staff and volunteers during your visit
Masks are mandatory but may be removed once you are seated.
Respect distancing and respiratory etiquette
Avoid coming if you are experiencing any symptoms of COVID-19 or have been in contact with someone diagnosed with the virus.
Get tickets
Tickets become available July 5, 7am
---
Program :
Images oubliées, L. 87 (1894)

I. Lent (mélancolique et doux)

Claude DEBUSSY (1862-1918)
Scherzo, L. 39 (1882)

Valse romantique, L. 71 (1890)

Tarantelle styrienne, L. 69 (1890)

Claude DEBUSSY
Images oubliées, L. 87 (1894)

II. Souvenir du Louvre

Claude DEBUSSY
Hommage à Haydn, L. 115 (1909)
Claude DEBUSSY
Lindaraja, L. 103 (1901)

Images oubliées, L. 87 (1894)

III. Quelques aspects de « Nous n'irons plus au bois »

parce qu'il fait un temps insupportable

Claude DEBUSSY
Élégie, L. 138 (1915)
Claude DEBUSSY
En blanc et noir, L. 134 (1915)
I. Avec emportement
II. Lent. Sombre
III. Scherzando
Claude DEBUSSY
Les soirs illuminés par l'ardeur du charbon, L. 150 (1916-17)
Claude DEBUSSY
---
Stéphane Tétreault, Cello
Biography
In addition to numerous awards and honours, Stéphane Tétreault is the recipient of the prestigious 2019 Virginia Parker Prize from the Canada Council for the Arts and was a nominee for the Oscar Morawetz Award for Excellence in Music Performance from the Ontario Arts Council. In 2018, he received the Maureen Forrester Next Generation Award in recognition of his sensitivities with music, his enviable technique, and his considerable communication skills. In 2015, he was selected as laureate of the Classe d'Excellence de violoncelle Gautier Capuçon from the Fondation Louis Vuitton,and received the Women's Musical Club of Toronto Career Development Award. Stéphane was the very first recipient of the $50,000 Fernand-Lindsay Career Award as well as the Choquette-Symcox Award laureate in 2013. First Prize winner at the 2007 Standard Life-Montreal Symphony Orchestra Competition, he was named "Révélation" Radio-Canada in classical music, was chosen as "Personality of the Week" by La Presse newspaper, and awarded the Prix Opus for New Artist of the Year.
Chosen as the first ever Soloist-in-Residence of the Orchestre Métropolitain, he performed alongside Yannick Nézet-Séguin during the 2014-2015 season. In 2016, Stéphane made his debut with the Philadelphia Orchestra under the direction of Maestro Nézet-Séguin and performed at the prestigious Gstaad Menuhin Festival in Switzerland. During the 2017-2018 season, he took part in the Orchestre Métropolitain's first European tour with Maestro Nézet-Séguin performing the Elgar Cello Concerto at the Concertgebouw in Amsterdam, the Kölner Philharmonie in Cologne and the Philharmonie de Paris and he made his debut with the London Philharmonic Orchestra with conductor John Storgårds.
Stéphane has performed with violinist and conductor Maxim Vengerov and pianists Alexandre Tharaud, Jan Lisiecki, Louis Lortie, Roger Vignoles, Marc-André Hamelin, Charles Richard-Hamelin and John Lenehan and has worked with conductors Michael Tilson Thomas, Paul McCreesh, John Storgårds, José Luis Gomez, James Feddeck and Kensho Watanabe amongst many other. He also participated in a number of master classes, notably with cellists Gautier Capuçon and Frans Helmerson.
His debut CD, recorded with the Quebec Symphony Orchestra and conductor Fabien Gabel was chosen as "Editor's Choice" in the March 2013 issue of Gramophone Magazine. His second album with pianist Marie-Ève Scarfone featuring works from Haydn, Schubert and Brahms was chosen as Gramophone Magazine's "Critics' Choice 2016" and recognized as one of the best albums of the year. In 2017, Stéphane partnered with harpist Valérie Milot and violinist Antoine Bareil for a third album dedicated to Trios for Violin, Cello and Harp and was equally well received by the music critics.
"Tétreault's disc charmed me from the off; this is just pure, lyrical, unadulterated playing of the highest order, with a maturity that belies his 22 years… I can't wait to hear more from him." (Charlotte Gardner, Gramophone) "His vibrato and tone are varied, his bowing techniques immaculate and his awareness of harmony and consequent shading omnipresent." (Joanne Talbot, The Strad) "The solo playing is astonishingly mature not merely in its technical attributes but also in its warmth, brilliance and subtlety of colour and inflection." (Geoffrey Norris, Gramophone)
Stéphane was a student of the late cellist and conductor Yuli Turovsky for more than 10 years. He holds a Master's Degree in Music Performance from the University of Montreal. Stéphane plays the 1707 "Countess of Stainlein, Ex-Paganini" Stradivarius cello, on generous loan by Mrs. Sophie Desmarais.
---
Olivier Hébert-Bouchard, piano and arrangements
Biography
A native of Trois-Rivières, Olivier Hébert-Bouchard is a graduate of the Conservatoire de musique de Trois-Rivières (Prize with Great Distinction, unanimously) and of the Manhattan School of Music (Masters with distinction), from which he was also a scholarship recipient. He completed his musical education through advanced programs at the Universität Mozarteum Salzburg in Austria, the Boston University Tanglewood Institute, the Académie Internationale d'Été in Nice, the Juilliard School and many internationally renowned pianists. Hébert-Bouchard is the winner of numerous national and international competitions, including the Julia Crane International Piano Competition, the Gian Battista Viotti International Piano Competition, the Missouri Southern International Piano Competition, the OSM Standard Life Competition, the Toronto Symphony National Piano Competition and the Wigmore Hall International Song and Lied Competition. An active radio artist, he can be heard on ICI Musique, Radio-Canada International, CBC Radio 2 and the European Broadcasting Union. His participation in several festivals and tours includes performances for Tanglewood on Parade, Jeunesses Musicales Canada, the Festival International du Domaine Forget, CAMMAC, the Festival Montréal / Nouvelles Musiques, the Festival Bach Montreal, Pro Musica, the Canadian Opera Company Chamber Music Series, The Chamber Music Society of Lincoln Center, the New York Flute Fair, the Mise-En Music Festival, the Orford Music Festival, the Quebec Opera Festival, E27 new music, Access codes and the Nuits magiques de Nice , in France.
Passionate about multidisciplinary art, Mr. Hébert-Bouchard takes part in many mixed projects combining dance, theater, improvisation, visual art and music, with, among others, Corpus Rhesus Danse, the Juilliard School, the Mois Multi de Québec, the Trois-Rivières International Poetry Festival and the Conservatories of Dramatic Art of Quebec. He also played the "piano double" for André Mathieu in Luc Dionne's film The Child Prodigy, which premiered on the big screen in the spring of 2010.
From 2011 to 2015, Mr. Hébert-Bouchard was professor of piano accompaniment consecutively at the Conservatoire de musique de Rimouski, at the Conservatoire de musique de Québec and at Laval University. Since 2015, he has participated regularly as a collaborating pianist and coach in the activities of the University of Montreal and McGill University. Likewise, as a collaborator, he is also invited to join the forces of numerous competitions and music academies including the Académie Internationale d'Été de Nice, the New York Summer Music Festival, the Académie de musique et de danse du Domaine Forget, the Canadian Vocal Art Institute, the Canadian Music Competition, the International Tremplin, the Prix d'Europe, the OSM Competition, in addition to giving numerous recitals across Quebec, Canada and North America. Since 2020, he has held the position of accompanying pianist at the University of Quebec in Montreal (UQAM).
In 2015, Mr. Hébert-Bouchard founded the Duo Palladium. Since then, he has also become a founding member of the Trio Émerillon and the Ensemble Phœnix. A sought-after recitalist, he has the chance to share the stage with a number of extraordinary artists, including Les Vents Français, Emmanuel Pahud, Susan Hoeppner, Mario Caroli, Leone Buyse, Vicens Prats, Robert Langevin, Gustavo Nuñez, Gilbert Audin, Jesper Busk Sørensen , Chris Gekker, Éric Aubier, Tom Hooten, Stefan Dohr, Louis-Philippe Marsolais, Øystein Baadsvik, Sergio Carolino, Julian Rachlin and Stéphane Tétreault.
---
Thank you to all our sponsors
Public partners
Season sponsors – Gold
Season sponsors – Silver
Season sponsors – Bronze
Concerts sponsors