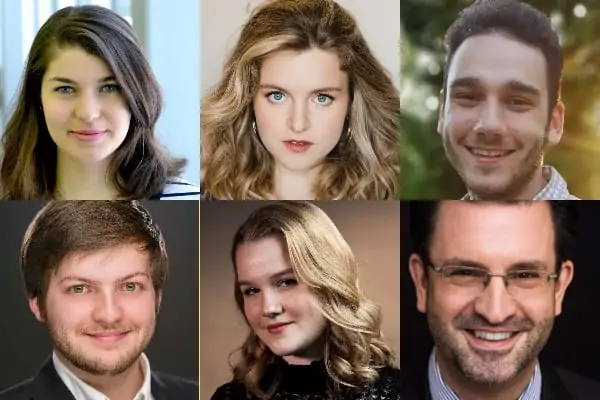 Event details
Sunday | 19 July 2020
19:00
On Concert Lachine Facebook Live (Link published the day of the concert)
Free admission | Suggested donation : $10
Due to the indisposition of our invited soloist Louise Pellerin the July 19 concert has been replaced by a concert that will feature five exciting young singers from the new emerging generation of Canadian singers who will charm and enchant you with a program of excerpts from opera, French mélodie and German lieder. They will be accompanied by pianist, Olivier Godin.
The featured young singers are : Vanessa Croome (soprano), Joé Lampron-Dandonneau (tenor), Raphaël Laden-Guindon (baritone), Sophie Naubert (soprano), Odile Portugais (soprano).
All these singers were participants in the 2020 Lachine Virtual International Vocal Academy.
How to attend the concert
The concert is on Facebook Live and on this webpage
It begins at 7 pm and includes:
Introductory talk by  Richard Turp
Concert
Conversation / questions
The concert is accessible free of charge, but we suggest a donation of $ 10 per concert. Make a donation
Means of accessing the virtual concert
Click the link sent by newsletter 1 to 2 days before each concert

(subscribe to our newsletter).

The link to access the concert on this site will be available the day of the concert
Can't attend the concert

?

Recordings of the concerts will be available for 7 days, on this page.
LIVE BROADCASTING OF THE CONCERT:
Important: disregard the time indicated in the box below. The concert takes place at 7pm.