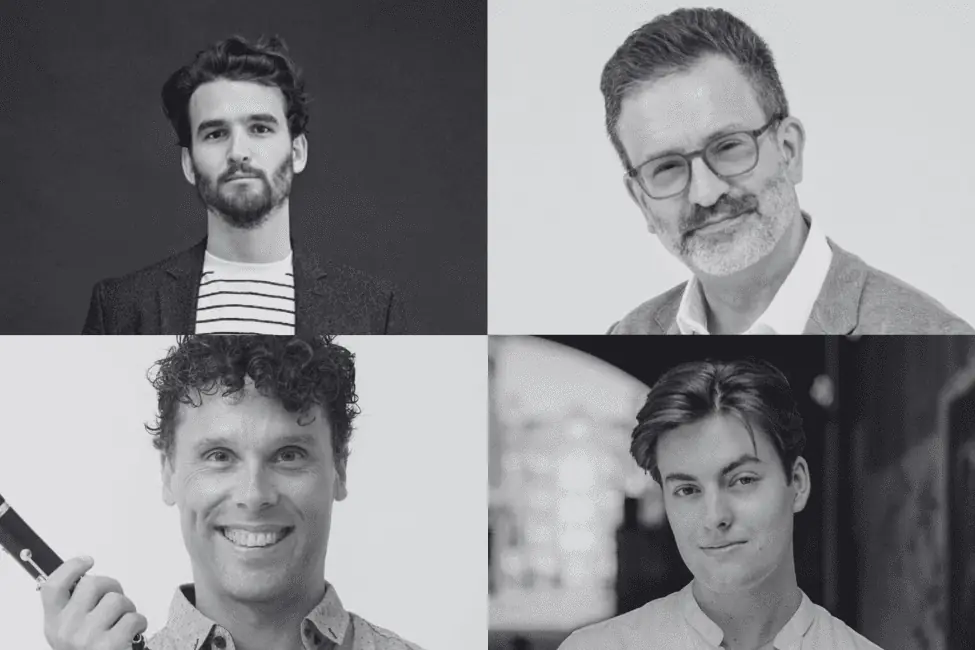 Event details
Tuesday | 11 July 2023
19:30
L'Entrepôt 2901, boul. Saint-Joseph, Lachine
Nos hommages Monsieur Poulenc
Discover the incredible universe of the great composer Francis Poulenc by renowned musicians. 
Olivier Godin, piano
Stéphane Fontaine, clarinette
Olivier Bergeron, baryton
Lawrence Kilsby, ténor
Tickets required 
(Free | Suggested Donation $10)
At the door 1 hour before each concert (40 tickets)
Online:
Donate
10$ donation suggested. To be able to continue offering high quality concerts that are free and accessible to all.
Schedule
Introductory talk animated by Richard Turp 15 minutes before the concert.
---
Biography
Stéphane Fontaine, clarinet
Stéphane Fontaine has held the position of principal clarinet of the Orchestre symphonique de Québec since 2004. He graduated with great distinction from the Conservatoire de musique de Québec (class of Marie Picard) and from DePaul University in Chicago (class of Larry Combs). He has won several Canadian and European competitions, including Dos Hermanas in Spain and Audi-Mozart (Rovereto) in Italy, and was awarded the prize for the best interpretation of a Canadian work at the Prix d'Europe in 2002.
As a chamber musician, he has performed in the Sine Nomine series, at the Îles du Bic, at the Laterrière Festival, in Sainte-Pétronille, at the Concerts Couperin, at the Classica Festival and on Radio-Canada. Also active as a soloist, he performs regularly with the Orchestre symphonique de Québec (OSQ) and is a guest of many other ensembles, including I Musici, La Sinfonia de Lanaudière, and the Orchestre symphonique de Lévis. He joined the Nouvel Ensemble Moderne for tours in Italy, China, Mexico and the United States. In addition to his musical activities, he has joined forces with Lise Beausoleil in an original dance / clarinet duo. Together they have been exploring the possibilities of dialogue between their respective artistic disciplines for almost 10 years. 
Mr. Fontaine is a member of the clarinet class at the Conservatoire de musique de Québec and teaches regularly at Domaine Forget. He is a performing artist for the clarinet manufacturer Yamaha.
Olivier Bergeron
Trained at the Conservatoire de musique de Montréal and then at the École normale de musique de Paris, Montreal baritone Olivier Bergeron made his professional debut in 2018 in Dido and Aeneas with Les Talens Lyriques at the Menton Music Festival. Since then, he has participated in numerous opera productions in Europe and North America, notably at the Opéra Grand Avignon, the Opéra de Reims, the Philharmonie de Paris, the Festival d'opéra de Québec and on tour with Jeunesses Musicales Canada. In recital, he makes his debut at the Wigmore Hall and Salle Cortot in the 2019-2020 season after participating in the French Song Exchange Program. Recent projects include a residency at the Musée d'art de Joliette in Schubert's Die schöne Müllerin with Carl Philippe Gionet and the Atelier lyrique at the Verbier Festival in Switzerland, where he performed Francis Poulenc's Le bal masqué with the Ensemble Appassionato. During the 2022-2023 season, he has performed in recital at the Petit Palais in Paris and at the Chapelle historique du Bon-Pasteur in Montreal with Olivier Godin. He also sang Fauré's Requiem with the McGill Choral Society and Parzival & Fierefiz in Dornach, a work that will also be presented on tour in Canada.
Laurence Kilsby, ténor
In the 2022/23 season, Laurence joined the opera studio of Opéra national de Paris and was recently awarded first prizes at the 2023 "Das Lied" Competition at the Heidelberger Frühling Festspiele, the 2022 Wigmore Hall / Bollinger International Song Competition and the 2022 Cesti Competition at the Innsbrucker Festwochen der Alten Musik. This season sees Laurence in the Paris Opera studio's production of La Scala di Seta at the Théâtre Athénée, and his consecutive debuts at the Salzburger Festspiele, the Berliner Festspiele and the BBC Proms in Les Troyens, conducted by Sir John Eliot Gardiner. 
He is an alumnus of the the Ravinia Steans Music Institute, Renée Fleming's Song Studio at Carnegie Hall, the Curtis Institute of Music and the Royal College of Music (in which, during his studies, he received the Kathleen Ferrier Society Bursary for Young Singers), 
His recent engagements include Bach's Weihnachtsoratorium with the Orchestre symphonique de Montréal, an opera gala with the studio of Paris Opera at the Palais Garnier, L'incoronazione di Poppea at the Festival d'Aix-en-Provence and the Royal Opera of Versailles, European tours of Bach's Johannes Passion with both Ensemble Pygmalion and the OAE, A Little Night Music with Opera North and L'Orfeo with the Nederlandse Reisopera. He has given recitals at the International Lieder Festival Zeist, Snape Maltings (with Roger Vignoles), Leeds Lieder Festival (as a Momentum Young Artist), the Akademie der Künste and the Cheltenham Music Festival. 
A former chorister with the Tewkesbury Abbey Schola Cantorum, Laurence was titled BBC Radio 2 Young Chorister of the Year in 2009. He appears as a soloist on a number of recordings, including the critically-acclaimed recording of Mozart's Coronation Mass and Solemn Vespers (Schola Cantorum/Delphian), as well as the Grammy nominated album, Handel's L'Allegro, Penseroso ed il Moderato (Gabrieli Consort / Signum Records). He appears on a new release from Stone Records, The Call in collaboration with pianist, Malcolm Martineau.
Olivier Godin, piano
Recently appointed Artistic Director of the Arte Musica Foundation and Salle Bourgie in Montreal, pianist, conductor and organist Olivier Godin leads a brilliant career as a concert artist, chamber musician and teacher in Canada and abroad. In recital, he has collaborated with numerous opera artists such as Frédéric Antoun, Pascale Beaudin, Marc Boucher, Julie Boulianne, Gordon Bintner, Russell Braun, Donna Brown, Thomas Dolié, Étienne Dupuis, Antonio Figueroa, Julie Fuchs, Karina Gauvin, Hélène Guilmette, Wolfgang Holzmair, Aline Kutan, Dominique Labelle, Marie-Nicole Lemieux, François Le Roux, Michèle Losier, Sylvia Schwartz, and many others. As a chamber musician, he has performed with pianists Michel Béroff, Suzanne Blondin, Myriam Farid and François Zeitouni, cellist Stéphane Tétreault and oboist Louise Pellerin. He has performed at numerous festivals in Canada and abroad. Olivier Godin has made some thirty critically acclaimed recordings, including complete works by Poulenc, Fauré, Duparc and Dutilleux, a disc of songs and piano works by Jolivet, the complete works for two pianos by Rachmaninov, the Liebeslieder-Walzer by Brahms, and a solo disc of the piano works of Émile Pessard (world premiere). He has given master classes for singers and pianists in Canada, the United States, Mexico, France and Sweden. Appointed professor at the Conservatoire de musique de Montréal at the age of 25, Olivier Godin was in charge of the opera workshop at this institution for nearly 15 years and a professor for 20 years. He also taught at the Schulich School of Music of McGill University as a Master Coach and as a professor of French lyrical diction. He participates in numerous summer academies as a vocal coach and vocal accompaniment teacher for pianists. In 2017 he co-founded the Académie internationale vocale de Lachine with his colleague Richard Turp.
---
Program
Poems of Ronsard

I- Attributs

 Pierre de Ronsard (1524-1585)

Métamorphoses

II- C'est ainsi que tu es

 Louise de Vilmorin (1902-1969)

Two poems of Guillaume Apollinaire

I- Montparnasse
II- Hyde Park

 Guillaume Apollinaire (1880-1918)

Laurence Kilsby, ténor
Olivier Godin, piano

Le bal masqué
cantate profane for baryton amd piano

I- Préambule et Air de Bravoure
II- Intermède
III- Malvina
IV- Bagatelle
V- La dame aveugle
VI- Finale

 Max Jacob (1876-1944)

Olivier Bergeron, baryton
Olivier Godin, piano

ENTRACTE

Sonate for clarinet and piano

I- Allegro tristamente
II- Romanza
III- Allegro con fuoco

Stéphane Fontaine, clarinette
Olivier Godin, piano

Miroirs brûlants

I- Tu vois le feu du soir
II- Je nommerai ton front

 Paul Éluard (1895-1952)

Bleuet

 Guillaume Apollinaire

Deux poèmes de Louis Aragon

I- C
II- Fêtes galantes

 Louis Aragon (1897-1982)

Laurence Kilsby, ténor
Olivier Godin, piano
---
Thank you to all our sponsors 
PUBLIC PARTNERS
SEASON SPONSORS – GOLD
SEASON SPONSORS – SILVER
SEASON SPONSORS – BRONZE 
CONCERT SPONSORS