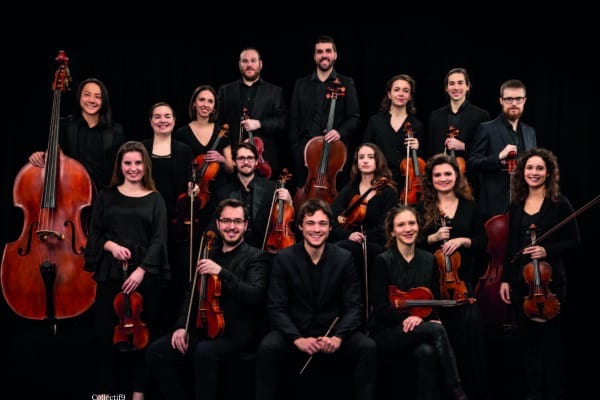 Event details
3 July 2021
19:30
Eglise Saints-Anges 1400, Saint-Joseph Blvd Lachine (Qc) H8S 2M8
Free Admission | Suggested Donation $10
Nicolas Ellis leads his orchestra in Klaus Simon's superb chamber version of Mahler's eternal and sublime, Symphony No.4. Solist: Vanessa Croome, soprano.
This concert is held at Eglise Saints-Anges de Lachine
A ticket is required to access the church (no ticket can be obtained at the church)
SCHEDULE:  
Introductory talk 19h10
Concert 19h30
COMPLIANCE WITH THE MEASURES : 
The number of seats is reduced to 170

Seats are be pre-assigned (first come first served)
Physical-distancing rule is observed
Areas have been setup for each spectator or each group of spectator living at the same address
Staff and volunteers will ensure compliance with the rules
FOR A PLEASANT AND SAFE EXPERIENCE FOR ALL, PLEASE: 
Arrive at least 15-30 minutes before the start of the concert
Follow the instructions of staff and volunteers during your visit
Masks are mandatory but may be removed once you are seated.
Respect distancing and respiratory etiquette
Avoid coming if you are experiencing any symptoms of COVID-19 or have been in contact with someone diagnosed with the virus.
Get tickets
Tickets become available June 28, 7am
---
Program
SYMPHONIE No.4 EN SOL MAJEUR

Bedächtig. Nicht eilen.
In gemächlicher Bewegung. Ohne Hast.
Ruhevoll. (Poco adagio)
Sehr behaglich

GUSTAVE MAHLER

(1860 -1911)
Biography
ORCHESTRE DE L'AGORA
L'Orchestre de l'Agora (OA), under the direction of Nicolas Ellis, is a multifaceted musical collective that is reinventing the role that classical musicians play in their community by focusing on their talent and commitment. Our musicians, who are young professionals from the Montreal area, are among the finest of their generation. Through their music, they actively take part in our bold concerts and outreach efforts. Together, we are out to change the world, one note at a time.
Since it was founded in 2013, the orchestra has had a twofold purpose: to showcase art and classical music, and to contribute to society. Much like its founder, Nicolas Ellis, the Orchestre is focused on the core values of initiative, collaboration, commitment, impact, and boldness. These values have been reflected in the orchestra's many undertakings over the years.
From season to season, the orchestra has continued to evolve in a most astonishing way. While its very first concerts came together through the efforts of a handful of musicians convinced of the power of music as a tool for social change, the orchestra has since been able to shine a spotlight on their talent and award them with over $200,000 in bursaries and fees. The orchestra has also contributed tens of thousands of dollars to local community organizations, by giving concerts to raise funds for them.
Nicolas Ellis, conductor
 Nicolas Ellis is the artistic director, conductor, and founder of L'Orchestre de l'Agora and also acts as an artistic collaborator with L'Orchestre Métropolitain and Yannick Nézet-Séguin. Nicolas Ellis founded L'Orchestre de l'Agora in 2013. The ensemble's mission is to reinvent the role of classical musicians in society by giving them the power to collectively increase their impact on the world, thanks to their talent and their commitment. Nicolas Ellis is the recipient of the 2017 Fernand Lindsay Career Bursary, was named Radio-Canada Classical Revelation 2018-2019 and won the Goyer Mécénat Musica Prize worth $125,000 in April 2021.
Vanessa Croome, soprano
A member of l'Atelier lyrique de l'Opéra de Montréal, Vanessa Croome is the recipient of the 2018 Stingray Star Award at the Atelier lyrique de l'Opéra de Montréal and the Elizabeth Wirth Vocal Art Award from the Schulich School of Music at McGill University. Also, in 2018, she made her professional debut as part of the Gerdine Young Artists program at the Opera Theater in St.Louis. A participant at the Lachine International Vocal Academy in 2018 and 2019, Vanessa created the role of Léa in the opera, L'hiver attend beaucoup de moi by Laurence Jobidon at L'Opéra de Montréal in 2020.
---
Thank you to all our sponsors
Public partners
Season sponsors – Gold
Season sponsors – Silver
Season sponsors – Bronze
Concerts sponsors