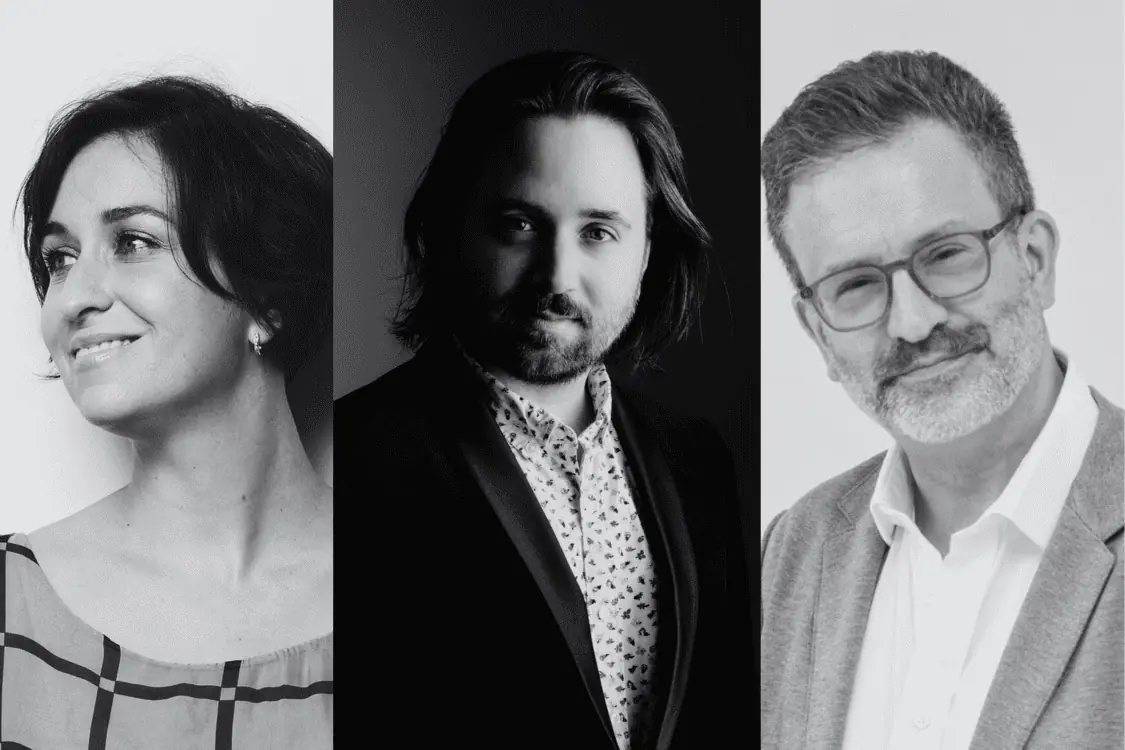 Event details
Monday | 17 July 2023
19:30
L'Entrepôt 2901, boul. Saint-Joseph, Lachine
Free admission (ticket required) | Suggested donation: 10$
L'intégrale des mélodies de Duparc : 175e anniversaire
The unforgettable songs of Henri Duparc performed by three legendary artists from Québec.

Michèle Losier, mezzo 
Hugo Laporte, baryton 
Olivier Godin, piano
Presented by:
J.J. Cardinal funeral home Lachine
Tickets required (Free | Suggested Donation $10)
At the door 1 hour before each concert (40 tickets)
On-line
Donate
10$ donation suggested. To be able to continue offering high quality concerts that are free and accessible to all.
Schedule
Introductory talk animated by Richard Turp 15 minutes before the concert.
---
Biography
Michèle Losier, mezzo-soprano
Michèle Losier was born in Montreal and was a member of the San Francisco's Merola Program, the Montreal Opera's Atelier lyrique and the Juilliard Opera Center in New York. She has performed in numerous productions at the Montreal Opera, the Seattle Opera, and the Boston Lyric Opera (Nicklausse in the Contes d'Hoffmann) and she made her Milan debut at La Scala in the role of Mercedes (Carmen) under the direction of Daniel Barenboim. Her success at the Metropolitan Opera Auditions in 2005 opened the doors to the New York stage two years later with the role of Diane (Iphigénie en Tauride).

Over the last few seasons, she has performed the title role in Charpentier's Médée at the Théâtre des Champs-Élysées and the Lille Opera; Prince Charming in Cinderella at the Opéra Comique; Nicklausse and the Muse at the Liceu in Barcelona, the Bayerische Staatsoper in Munich and La Monnaie in Brussels; Dorabella in Così fan tutte at the Théâtre des Champs-Élysées, London's Royal Opera House Covent Garden, the Salzburg Festival and the Paris Opera for her debut there; Siebel (Faust) at London's Royal Opera House and the Metropolitan Opera; Charlotte (Werther) in Sydney and Montreal; Cherubino (Le nozze di Figaro) in San Francisco and Washington; Ruggiero (Alcina) in concert with the Musiciens du Louvre and Marc Minkowski; Phoebé (Castor et Pollux) at the Théâtre des Champs-Élysées, Ascanio (Benvenuto Cellini) at the Dutch National Opera in Amsterdam and the Paris Opera; Béatrice (Béatrice et Bénédict) at La Monnaie in Brussels; Angelina (La Cenerentola) at the Lyon Opera and the Edinburgh Festival; Concepcion (L'Heure espagnole) and Ascagne (Les Troyens) at the Paris Opera; Giovanna Seymour (Anna Bolena) at the Bordeaux Opera; Idamante (Idomeneo) at Milan's La Scala; the title role in Carmen at the Royal Danish Opera in Copenhagen and the Vienna Staatsoper, and Octavian (Der Rosenkavalier) at the Staatsoper Unter den Linden in Berlin.

Michèle Losier also performs in concert with a repertoire that includes Berlioz's L'Enfance du Christ, La Damnation de Faust and Les Nuits d'été, Beethoven's Ninth Symphony and Missa Solemnis, Mozart's Requiem, Rossini's Petite Messe Solennelle and Mahler's Rückert Lieder. She recorded Duparc's Mélodies with pianist Daniel Blumenthal. Since then, she has recorded various operas in live performances and with the ATMA Classique label, she has recorded Brahms's Liebeslieder-Walzer, and TEMPS NOUVEAU, a collection of French songs with Canadian pianist Olivier Godin.
Hugo Laporte, baryton

Among Hugo Laporte's recent roles include Sharpless (Madama Butterfly) for l'Opéra de Montréal, Figaro (Il barbiere di Siviglia) and Belcore (L'elisir d'amore) at Opéra de Québec, Phantom (Phantom of the Opera – in French) at Montreal's Théâtre Saint-Denis and Grand Théâtre de Québec, and the Prosecutor (Another Brick in the Wall) at Toronto's Meridian Hall, Mozart's Great Mass conducted by Yannick Nézet-Séguin, Handel's Messiah with Orchestre classique de Montréal at Saint Joseph's Oratory, Brahms' Liebeslieder at Festival Classica and several gala concerts, recitals and concerts at festivals around North America. He also takes part in the complete recording of Massenet's songs with the label ATMA, alongside artists such as Marie-Nicole Lemieux. 
In recent seasons, he sang on Opéra de Québec's stage where he performed Albert (Werther). In 2018, he portrayed Phantom (The Phantom of the Opera – in French) in Montreal, and made two house debuts with his highly-praised Mercutio (Roméo et Juliette) at Opéra de Montréal and Schaunard (La Bohème) with Opera de Massy. Hugo Laporte portrayed several roles, notably Figaro (Barber of Seville) and Escamillo (Carmen) at Société d'art lyrique du Royaume, Moralès/Dancaïre (Carmen) at Theater Regensburg and OSM and Riff (West Side Story, in concert). 
Hugo Laporte has appeared with Deutsche Radio Philharmonie, Staatsphilharmonie Nürnberg, Moscow's Helikon-Opera, Minsk National Opera Orchestra, Orchestre symphonique de Montréal, Orchestre symphonique de Québec, Orchestre symphonique de Sherbrooke, National Arts Center Orchestra and Newfoundland Symphony Orchestra, in venues such as Teatro Comunale di Bologna, Shanghai Daning Theater, Qingdao Grand Theater, Baotou Grand Theater, and festivals such as Festival de Lanaudière, OSM Classical spree, Montreal Bach Festival, Festival d'opéra de Québec, and Festival Orford. 
In addition to opera, he frequently performs in sacred works such as Fauré's Requiem, Brahms' Deutsches Requiem, Duruflé's Requiem, J.S. Bach's St Matthew's Passion, Rossini's Petite messe solennelle, Gounod's Messe solennelle de Sainte-Cécile, and G. Finzi's In Terra Pax. 
Hugo Laporte received awards in several competitions, including the "Teatro alla Scala" prize at Belvedere Competition in Austria, Grand prize of OSM Competition, 1st prize at Canadian Music Competition, Finalist at the Montreal International Musical Competition, 3rd prize at Prix d'Europe and 3rd prize – mélodie – at Marmande competition. He received several grants and engagements by the international opera program "Jeunes Ambassadeurs Lyriques", including the Young Canadian Opera Hope award. Hugo Laporte holds a master's degree with honors in Music (Vocal studies) at Université Laval, Québec. He studied with soprano Patricia Fournier, and also trained with several renowned teachers such as Ghinka Radilova, Antonio Carangelo, Benita Valente, and Jean-François Lapointe.
Olivier Godin, piano
Recently appointed Artistic Director of the Arte Musica Foundation and Salle Bourgie in Montreal, pianist, conductor and organist Olivier Godin leads a brilliant career as a concert artist, chamber musician and teacher in Canada and abroad. In recital, he has collaborated with numerous opera artists such as Frédéric Antoun, Pascale Beaudin, Marc Boucher, Julie Boulianne, Gordon Bintner, Russell Braun, Donna Brown, Thomas Dolié, Étienne Dupuis, Antonio Figueroa, Julie Fuchs, Karina Gauvin, Hélène Guilmette, Wolfgang Holzmair, Aline Kutan, Dominique Labelle, Marie-Nicole Lemieux, François Le Roux, Michèle Losier, Sylvia Schwartz, and many others. As a chamber musician, he has performed with pianists Michel Béroff, Suzanne Blondin, Myriam Farid and François Zeitouni, cellist Stéphane Tétreault and oboist Louise Pellerin.

He has performed at numerous festivals in Canada and abroad. Olivier Godin has made some thirty critically acclaimed recordings, including complete works by Poulenc, Fauré, Duparc and Dutilleux, a disc of songs and piano works by Jolivet, the complete works for two pianos by Rachmaninov, the Liebeslieder-Walzer by Brahms, and a solo disc of the piano works of Émile Pessard (world premiere). He has given master classes for singers and pianists in Canada, the United States, Mexico, France and Sweden. Appointed professor at the Conservatoire de musique de Montréal at the age of 25, Olivier Godin was in charge of the opera workshop at this institution for nearly 15 years and a professor for 20 years. He also taught at the Schulich School of Music of McGill University as a Master Coach and as a professor of French lyrical diction. He participates in numerous summer academies as a vocal coach and vocal accompaniment teacher for pianists. In 2017 he co-founded the Académie internationale vocale de Lachine with his colleague Richard Turp.
---
Program
Mélodies d'Henri Duparc (1848-1933)

Chanson triste poésie de Jean Lahor (1840-1909)
Testament poésie d'Armand Sylvestre (1837-1901)
Sérénade florentine poésie de Jean Lahor
Le galop poésie de René-François Sully-Prudhomme (1839-1907)

Hugo Laporte, baryton
Olivier Godin, pianiste

Sérénade poésie de Gabriel Marc (1840-1901)
Lamento poésie de Théophile Gautier (1811-1872)
Romance de Mignon poésie de Victor Wilder (1835-1892) d'après
un texte de Johann Wolfgang von Goethe (1749-1832)
Au pays où se fait la guerre poésie de Théophile Gautier
Michèle Losier, mezzo-soprano
Olivier Godin, pianiste

–ENTRACTE–

Le manoir de Rosemonde poésie de Robert de Bonnières (1850-1905)
Soupir poésie de René-François Sully-Prudhomme
La vie antérieure poésie de Charles Baudelaire (1821-1867)

Hugo Laporte, baryton

Olivier Godin, pianiste

Élégie poésie de Thomas Moore (1779-1852)
traduction française d'Ellie Mac Swiney (1845-1934)
Extase poésie de Jean Lahor
L'invitation au voyage poésie de Charles Baudelaire
Michèle Losier, mezzo-soprano
Olivier Godin, pianiste

La vague et la cloche poésie de François Coppée (1842-1908)
Hugo Laporte, baryton
Olivier Godin, pianiste

Phidylé poésie de Charles-Marie-René Leconte de Lisle (1818-1894)
Michèle Losier, mezzo-soprano
Olivier Godin, pianiste

La fuite (duo) poésie de Théophile Gautier
Michèle Losier, mezzo-soprano
Hugo Laporte, baryton
Olivier Godin, pianiste
---
Thank you to all our sponsors 
PUBLIC PARTNERS
SEASON SPONSORS – GOLD
SEASON SPONSORS – SILVER
SEASON SPONSORS – BRONZE 
CONCERT SPONSORS