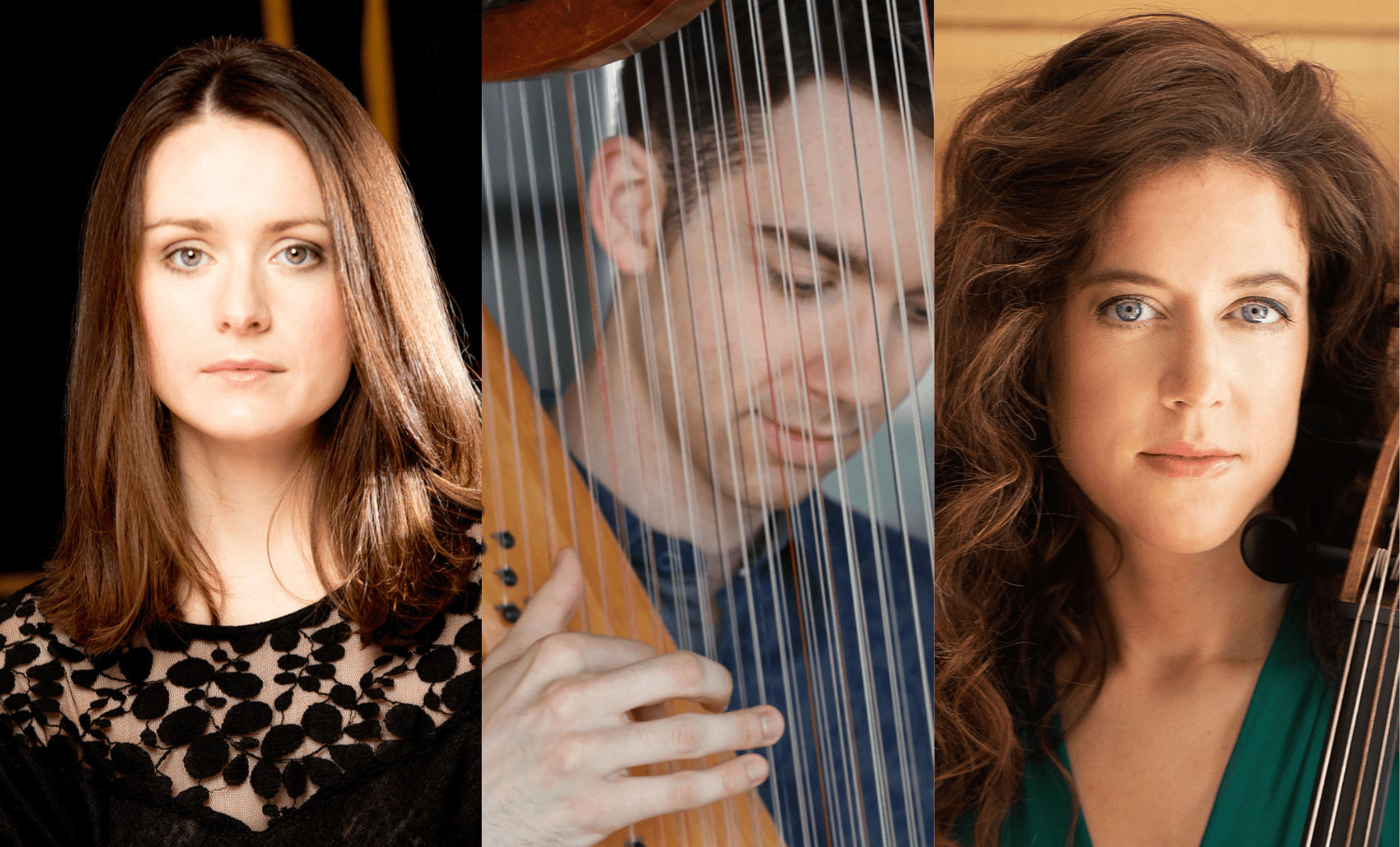 Event details
Saturday | 16 July 2022
15:00
L'Entrepôt 2901 Bd Saint-Joseph Lachine, QC H8S 4B7
Free admission (ticket required) | Suggested donation: 10$
Three celebrated musicians and specialists in ancient et baroque music, Elinor Frey, Antoine Malette-Chénier and Mélisande McNabney, propose beautiful works by the French composer, Jean Baur.  
This concert is presented in person.
A ticket (free) is required to access the concert
Suggested donation : 10$ – Make a donation 
Tickets available online right now
Tickets also available at the door before each concert (60+ tickets)
TICKETS
PRESENTED BY: 
Concert: Jean-Coutu – Aboud Georges & Centre visuel Victoria 
Program
Cello Sonata in B-flat Major, Op. 2, no. 2
"La Dupleïx" (1756) (10:45 – 12:15)
– Allegro 6:30 (with both repeats) or 5:00 (AAB) 
– Adagio amoroso 2:15
– Allegro 3:30

 


Harp Sonata no. 6 in C major (9:45)
– Allegro
– Tempo di Minuetto
– Allegro


Cello Sonata in G Minor, Op. 1, no. 4 (1751) (11:15)
– Adagio 0:50
– Allegro 3:00 (moderato)
– Adagio 3:11
– Allegro 4:14

 

 

Sonata pour harpe
Avec un Accompagnement Chantant pour le Clavecin Ou le Fortepiano, Op. 7, no. 1 in E-flat Major ou no. 2 in B-flat Major (apport. 8 min)
– Allegro
– Allegro, 1er Allemande, Autres Allemandes, etc.

 


 

Cello Sonata in D Minor, Op. 1, no. 3 (1751) (10:30)
– Adagio 1:06
– Allegro 2:53
– Adagio 3:30
– Rondeau Allegro. Tempo di Gavotta 3:00


 

 
 
Biographies
ELINOR FREY
Elinor Frey is a Canadian-American cellist, gambist and researcher, specializing in early and new music. Her acclaimed albums on the Belgian Passacaille label – most of which are world premiere recordings – include La voce del violoncello (2013), Berlin Sonatas (2015) with Lorenzo Ghielmi (was nominated for a Juno Award and won a Prix ​​Opus), Fiorè (2017) with Canadian soprano Suzie LeBlanc and Giuseppe Dall'Abaco: Cello Sonatas (2020) which won a Diapason d'Or. She has just released Antonio Vandini: Complete Works, a project in collaboration with Marc Vanscheeuwijck. Her critical edition of the complete cello works of Dall'Abaco is published in collaboration with Walhall Editions.

Frey's debut album, Dialoghi, is named after the solo piece written for her by Steven Stucky, and her CD of new baroque cello works titled Guided By Voices was released on the Analekta label in March 2019. These works are by Scott Godin, Linda Catlin Smith, Ken Ueno, Isaiah Ceccarelli, Maxime McKinley and Lisa Streich. Winner of the Opus prize for performer of the year in 2019-2020, Elinor has, among other things, benefited from the US-Italy Fulbright Fellowship as well as grants from SSHRC and the Canada Council for the Arts with regard to her work on early cello music. She has performed in concert with Il Gardellino, Les Idéeshappys, Ensemble Caprice, Ensemble Constantinople and Pallade Musica. Elinor Frey received a doctorate in music from McGill University and is also a graduate of Mannes College of Music and the Juilliard School. Elinor is Professor of Early Cello at the University of Montreal, Lecturer at McGill University and was, between 2019 and 2022, Visiting Music Researcher at Lady Margaret Hall at the University of Oxford.
ANTOINE MALLETTE-CHÉNIER
An innovative and creative harpist, Antoine Malette-Chénier's performance range extends from Renaissance and Baroque repertoire on period instruments to contemporary works. Principal harp of the Orchestre symphonique de Trois-Rivières, Antoine is a versatile and sought-after musician, having performed as soloist, chamber musician, and continuo player with numerous ensembles in Canada and abroad, including the Orchestre Métropolitain, Les Voix humaines, and Les Violons du Roy.
Antoine has won many awards, including a 2014 Michael-Measures Prize from the Canada Council for the Arts, a first prize at the 2013 OSM Competition, and two scholarships from the National Arts Centre Orchestra. He holds degrees from the Conservatoire de musique de Trois-Rivières, Université de Montréal, McGill University, the Yale School of Music, and the Conservatoire national supérieur musique et danse de Lyon, where he earned a master's degree in historic harps.
MÉLISANDE McNABNEY 
Mélisande McNabney performs keyboard music of all periods, on harpsichord, piano and fortepiano. In August 2015, she received the third prize at the International Competition Musica Antiqua in Bruges, Belgium.
Very active on the concert scene, Mélisande was invited as a soloist in series such as Clavecin en Concert or the Série Jacques Dansereau at Bourgie Hall. As a chamber and orchestra musician, she is regularly invited to play with Les Violons du Roy, Arion Orchestre Baroque, Montreal Bach Festival Orchestra, Les Idées heureuses, the Theater of Early Music and Ensemble Caprice. She is a member of Pallade Musica and ensemble Les Songes, with whom she took part in numerous tours of Canada and the USA. In January 2019, Mélisande released her debut solo album, Inspirations : D'Anglebert, Forqueray, Rameau, on the label ATMA Classique. Well received by critiques worldwide, the recording received 5 Diapasons from the famous French magazine.
In 2021, Mélisande looks forward to concerto appearances with Arion Orchestre Baroque and Les Violons du Roy, as well as the launch of her second solo album with ATMA Classique, this time on fortepiano. In addition to her performing activities, Mélisande is also an active researcher in the field of performance practices, and will be presenting in two international conferences in the summer of 2021: the HKSNA conference in St. Paul, Minnesota, and the Biennial International Conference on Baroque Music in Birmingham, UK.
Mélisande is a graduate of the Amsterdam Conservatory where she studied harpsichord, continuo and fortepiano in the classes of Bob van Asperen and Richard Egarr. She was granted her Doctorate degree at McGill University in May 2017, under the guidance of Hank Knox and Tom Beghin, thanks to the support of the Joseph-Armand Bombardier Canada Graduate Scholarships Program. Mélisande has received scholarships from Musicaction, the Canada Council for the Arts, the Banff Centre, the SSHRC, the FQRSC and the CALQ.
Thank you to all our sponsors 
PUBLIC PARTNERS
SEASON SPONSORS – GOLD
SEASON SPONSORS – SILVER
SEASON SPONSORS – BRONZE 
CONCERT SPONSORS