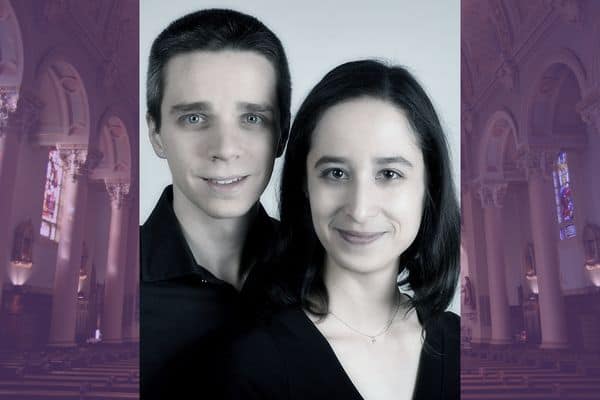 Event details
Sunday | 29 January 2023
15:00
Église Saints-Anges de Lachine 1400, Boul. St-Joseph Lachine (Qc) H8S 2M8
Free Admission | Suggested Donation $10
DUO PERGULÆ 
Francine Nguyen-Savaria, organist
Matthieu Latreille, organist
These Canadian organists and choir directors are active on the North American scene and they have been giving joint concerts since 2009.
This concert is presented in person, at the Saints-Anges de Lachine church
Details
The size of the church allows social distancing
No tickets required
---
Biography
Francine Nguyen-Savaria and Matthieu Latreille are Canadian organists and conductors. They are active on the North American scene both as a duo and as soloists. They have been giving joint concerts since 2009 and currently live in the greater Montreal area where they are pursuing their careers. They are co-musical directors at the Saint-Barnabas Anglican Church in Saint-Lambert on the South Shore of Montreal. Prior to their return to the Montreal area, they served as music directors at St. Ambrose Episcopal Church (Claremont, California) in 2012 and 2013, and at St. Thomas Anglican Church (Belleville, Ontario) from 2014 to 2019.
Originally from Gatineau, Matthieu Latreille graduated from the Gatineau and Montreal Conservatories of Music where he studied with Danielle Dubé, then with Jean Le Buis. In 2008, he was the first Quebecer to perform Maurice Duruflé's complete organ works in a single concert. In addition to winning first prizes at the Lynnwood-Farnam and Osborne organ competitions, he was selected to compete in the Longwood-Gardens International Organ Competition. The Canadian newspaper La Presse described his performances as "brilliant" and "confirming his qualities as a virtuoso, orchestrator and performer".
Matthieu Latreille is the author of the transcriptions and arrangements made by the duo. He also conducts the Montreal Compline Choir, a semi-professional ensemble dedicated to the singing of the Compline Office.
Originally from Montreal, Francine Nguyen-Savaria is a graduate of the Montreal Conservatory of Music, where she studied with Jean Le Buis, and of the University of Southern California (USC), where she studied with Cherry Rhodes. She has won several awards and scholarships including a second prize at the 2012 Osborne Organ Competition, the John-Goss Memorial Scholarship from the Royal Canadian College of Organists and the Irene-E.-Robertson Scholarship from the USC Thornton School of Music. She performed the complete works of Johannes Brahms at the Calgary Organ Festival and Symposium in 2014. A versatile artist, Francine devotes her time and passion to various art forms and to the design of several duo projects. She also sings as a mezzo-soprano in the Montreal Compline Choir, which she co-directs with Matthieu.
---
Programme
Prélude et fugue en do majeur                                                                                                                        

                                                 Johann Gerog   ALBRECHTSBERGER
(1736 – 1809)

Variations sur le thème du "Veni Creator  Spiritus"                 

I. Thème
II. Variation 1 — Intermezzo
III. Variation 2 — Assez lent
IV. Variation 3 — Très lent
V. Variation 4 — Fanfare sur les jeux d'anches
VI. Variation 5 — Scherzo
VII. Variation 6 — Ricercare
VIII. Variation 7 — Duo pour pédalier
IX. Variation 8 — Final

David BRIGGS
(1962 –    )

Spiegel im Spiegel

Avro PÄRT
(1935 –    )

Cinquième symphonie en do mineur, op. 67
Transcription pour duo d'orgue : Matthieu Latreille                                       

I. Allegro con brio
II. Andante con moto
III. Allegro
IV. Allegro

Ludwig van BEETHOVEN
(1770 – 1827)
---
Thank you to all our sponsors
PUBLIC PARTNERS
SEASON SPONSORS – GOLD
SEASON SPONSORS – SILVER
SEASON SPONSORS – BRONZE
CONCERT SPONSORS