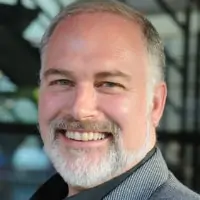 Born in Montreal, Richard Turp grew up from the age of 6 in London, UK. Having graduated from London University (Russian Regional Studies and Music), he began vocal studies with his father, the renowned tenor, André Turp. For a decade, he worked principally in Europe (UK, Italy, France, Belgium, Spain, Switzerland) but returned in 1983 to his native country to appear as Malcolm and sing with his father in the production Verdi's Macbeth of L'Opéra de Montréal.
At the end of 1988, he became the Artistic Director of the Montreal International Music Festival where he remained until 1991 when he joined L'Opéra de Montréal as Director of Special Projects, a post he held for two seasons. He was Interim General Manager of the McGill Chamber Orchestra before becoming Artistic Director of the Lachine Music Festival in 1997, a post he still holds today. In 1998, he co-founded the André-Turp Musical Society (Société musicale André-Turp). He assumed the artistic direction of this prestigious vocal society for thirteen years. Cofounder of the Canadian Vocal Arts Institute and of the Centre lyrique d'expression française, he assumed between 2008 and 2014 the direction of the vocal program at the Orford Arts Centre. Between 2015 and 2017, he headed the vocal program at the International Academy of Domaine Forget. Since 2018 he directs the new and important summer program, the Lachine International Vocal Academy. He has been a board member of several institutions including Jeunesses musicales du Canada and the Conseil québécois de la musique and is at present a board member of both Im Zentrum Lied and Opera Canada.
He is regularly invited to act as a judge at vocal competitions and awards, most notably the Montreal International Musical Competition, the Canadian Music Competition, the OSM Standard Life Competition, the Brian Law Opera Scholarship Competition and the NATS (National Association of Teachers and Singers) Competition. He is both a jury member and consultant for the Jacqueline Desmarais Foundation for Young Canadian Opera Singers and has adjudicated several doctoral exams, especially at McGill University and Université de Montréal.
Richard Turp has worked extensively for both the French and English networks of the CBC and conceived and assumed the artistic direction of the closing concert of the 2002 Montreal in Lights Festival, Montreal en voix that was televised on both CBC networks and ARTV. He was responsible for the artistic and musical conception and writing of several series for BRAVO television, such as Opera Easy, Opera Stories, Portraits of Mozart, Shakespeare in Music, Klassical Kabaret and Musical Voices.
He lectures widely, including for L'Opéra de Montréal, the McGill Chamber Orchestra, the Montreal Symphony Orchestra, the Montreal Chamber Music Festival, the Institut d'études méditerranéennes de Montréal, the Italian Institute of Culture, CAMMAC and The Wagner Society. He has hosted two editions of the Opera Canada Awards Gala, The Rubies. Richard Turp has written many programmes notes for musical organisations and record companies and has been a frequent collaborator for such periodicals as Opera Canada, Opera Now and Bachtrack. He was The Gazette's music critic during Arthur Kaptainis' sabbatical. Richard Turp has taught at McGill University, UQAM, Université de Sherbrooke, and Université de Montréal where he gave vocal literature courses. He has presented many seminars on French vocal repertoire, including at the
Conservatoire de Québec and at Ottawa and Carleton universities. Richard Turp has been invited to give masterclasses in such prestigious institutions as l'Atelier lyrique de l'Opéra de Montréal and the Royal Academy of Music in London, UK.