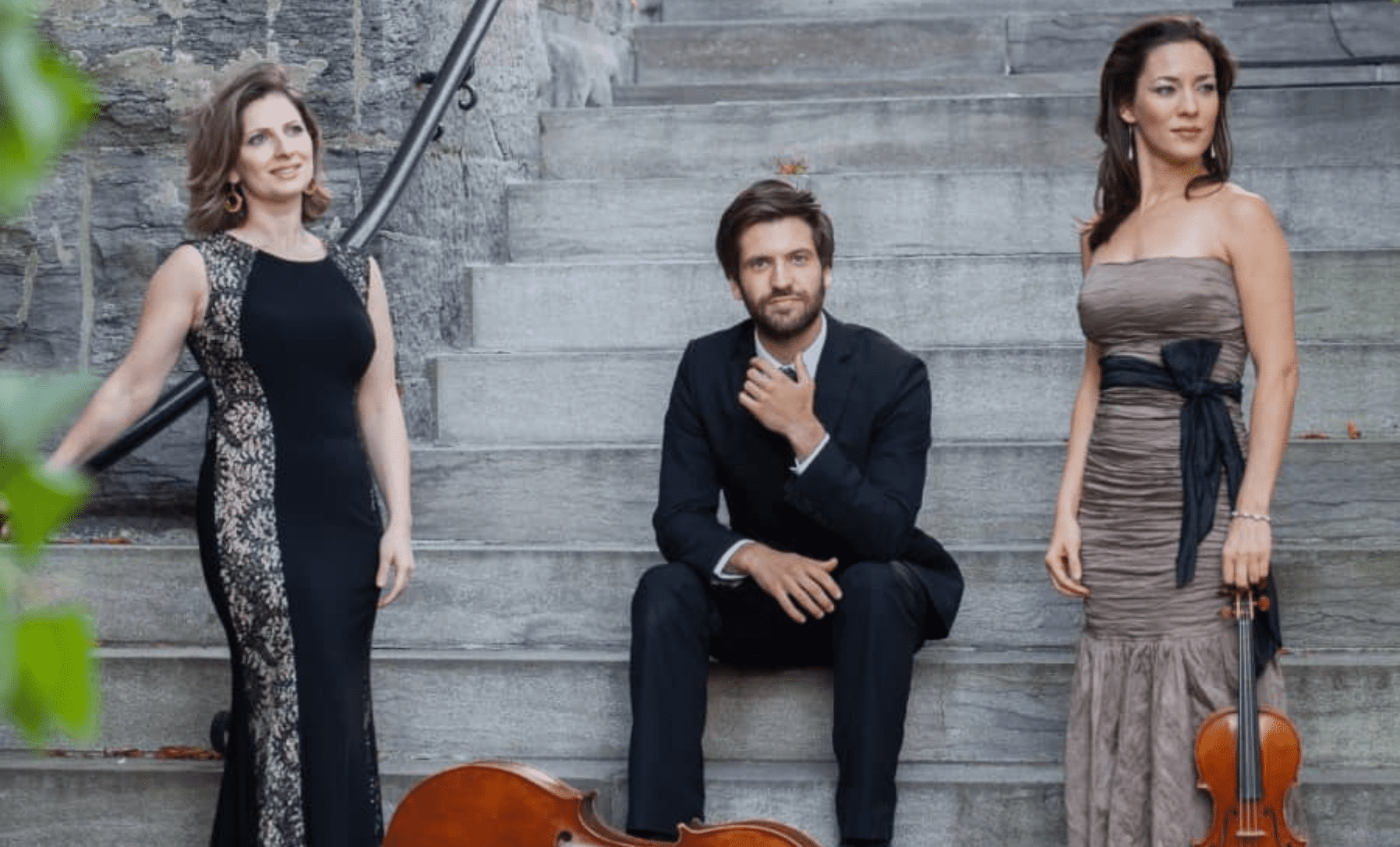 Event details
12 July 2022
19:30
L'Entrepôt 2901 Bd Saint-Joseph Lachine, QC H8S 4B7
Free admission (ticket required) | Suggested donation: 10$
The dynamic Trio de l'île perform a program of works for piano, violin, cello by Haydn and Tchaikovsky. Not to be missed!
This concert is presented in person.
A ticket (free) is required to access the concert
Suggested donation : 10$ – Make a donation 
Tickets available online right now
Tickets also available at the door before each concert (60+ tickets)
Tickets
Program
Trio en sol majeur No. 39, Hob. XV.25, Zigeunertrio 
– Andante
– Poco adagio. Cantabile
– Rondo all'Ongarese: Presto

Josef Haydn
(1732 – 1809)

Trio en la mineur, opus 50 
– Pezzo elegiaco. Moderato assai – Allegro giusto
– Tema con variazioni. Andante con moto (mi majeur)

Var. I.

Var. II. Più mosso

Var. III. Allegro moderato

Var. IV. L'istesso tempo

Var. V. L'istesso tempo

Var. VI. Tempo di valse

Var. VII. Allegro Moderato

Var. VIII. Fuga. Allegro moderato

Var. IX. Andante fieble, ma non tanto

Var. X. Tempo di Mazurka

Var. XI. Moderato

Variazione Finale e coda. Allegro risoluto e con fuoco (la majeur)

– Coda :  Andante con moto – Lugubre (la mineur)

Piotr Ilyich Tchaikovsky
(1840 – 1893)
Biography
Patil Harboyan, piano
Uliana Drugova, violin
Dominique Beauséjour-Ostiguy, cello
Momentum, luminosity, audacity. This is the musical direction offered to their audiences by Patil Harboyan, Uliana Drugova and Dominique Beauséjour-Ostiguy, who play respectively piano, violin and cello of the Trio de l'Île.
The city of Laval became the anchor point for the Trio de l'île.
Trio de l'Île became renowned for the complicity, the originality, the innovation of their musical aesthetic.
Finalist at the 24th edition of the Opus Awards, in the category: Concert of the Year – Classical, Romantic, Post-Romantic, Impressionist Music – the Trio de l'Île has just launched its first album.
All three former scholarship holders of the Fondation de soutien aux arts de Laval (FSAL), the members of this trio took advantage for 5 years of their residency at the Les Déjeuners croissants-music series of the Maison des arts de Laval to promote the philanthropic work of the Foundation. Elected ambassadors of the FSAL, these musicians, whose rigorous classical training is recognized in the accuracy and seriousness of their interpretations, perform brilliantly on stages across the country.
Momentum, luminosity, audacity, but also passion, rigor, accessibility…
Brahms, Rachmaninoff, Babadjanian, Piazzolla, Debussy, Shostakovich… the Trio de l'île responds perfectly to the most demanding of challenges!




–