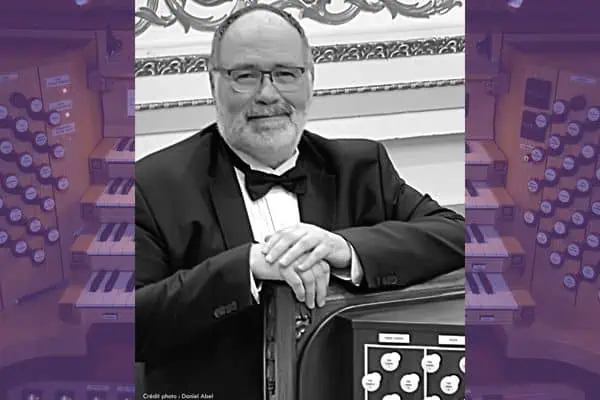 Event details
24 September 2023
15:00
Église Saints-Anges de Lachine 1400, Boul. St-Joseph Lachine (Qc) H8S 2M8
EntFree Admission | Suggested Donation $10
Marc D'Anjou, organist
This first prize winner of the Conservatoire de Rimouski, winner of the Baldwin Competition and finalist of the Quebec Organ Competition is titular organist of the Cathedral of Quebec.
The size of the church allows social distancing
No tickets required
---
Biography
Born in Gagnon in 1964, Marc D'Anjou entered the Rimouski Music Conservatory in September 1976. Alongside his organ studies (with Jacques Montgrain), he also pursued piano and harpsichord studies. In 1986, his studies culminated in a unanimously awarded first prize by the jury. Subsequently, he delved into improvisation with Richard Gagné and Rachel Laurin, and furthered his improvisation and French repertoire studies in Paris under Jean Galard's guidance. In 1980, Marc D'Anjou secured first place in the national organ finals, junior category, at the Baldwin Competition in Toronto. He delivered an exceptional performance as a finalist in the inaugural edition of the Quebec Organ Competition in June 1992.
In December 1993, he earned the position of titular organist at the Notre-Dame Basilica-Cathedral of Quebec through a competitive selection process. He held this role until May 2010. Subsequently, he served as the musical director (organist, pianist, and choir director) at South Burnaby United Church from September 2010 to September 2012. In May 2012, he was once again appointed, this time by acclamation, as the titular organist at the Notre-Dame Basilica-Cathedral of Quebec, a position he has held ever since, also assuming the role of musical director since 2015.
Additionally, he serves as a pianist-repetiteur for the Quebec Symphony Orchestra choir and is the artistic director of the Notre-Dame Chamber Choir. He regularly collaborates as an accompanist with the choirs Les Rhapsodes and the Maîtrise des petits chanteurs de Québec. In October 2016, he founded the "Notre-Dame Chamber Choir," composed of young professional singers from Quebec, aspiring to be an ensemble that operates without a dedicated musical director, with some exceptions. In July 2022, he had the privilege of accompanying the choir of St. Michael's Cathedral in Toronto during vespers presided over by Pope Francis.
---
Program
Messe pour les paroisses
Plain-chant du 1er Kyrie, en taille
Fugue sur les jeux d'anches 2e couplet
Récit de Chromhorne 3e couplet
Dialogue sur la Trompette et le Chromhorne 4e couplet
Plain-chant 5e et dernier couplet

 FRANÇOIS COUPERIN
(1668-1733)

Prélude et fugue en sol mineur BuxWV 149

DIETERICH BUXTEHUDE
(1636-1707)

Choral Près des fleuves de Babylone BWV 653

JOHANN SEBASTIAN BACH
(1685-1750)

Andante-Cantabile extrait symphonie no.4 op.4 no.13

CHARLES MARIE WIDOR
(1844-1937)

Final extrait symphonie no.1 op.14 no.1

LOUIS VIERNE
(1870-1937)

Le Banquet céleste (1928)

OLIVIER MESSIAEN
(1908-1992)

Suite du troisième ton (2022)
Petit Plein Jeu
Grand Plein Jeu
Duetto
Tierce en taille
Basse et dessus de Trompette
Aria sur les Flûtes
Grand Jeu

DENIS BÉDARD
(1950-     )
---
Thank you to all our sponsors
PUBLIC PARTNERS
SEASON SPONSORS – GOLD
SEASON SPONSORS – SILVER
SEASON SPONSORS – BRONZE
CONCERT SPONSORS