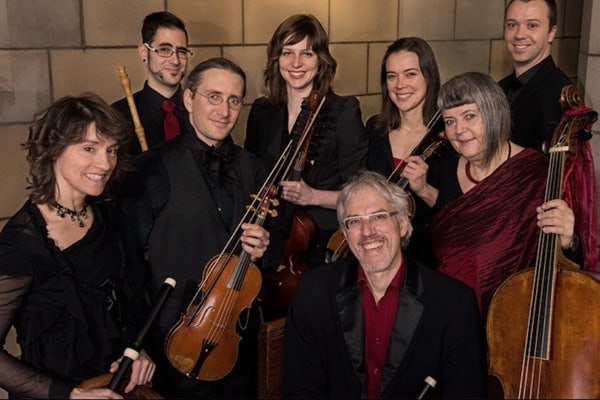 Event details
Saturday | 31 July 2021 to Sunday | 1 August 2021
13:00
On Concerts Lachine Facebook and on this website
Free admission | $10 suggested donation
Matthias Maute and the famous ensemble Caprice present, Château du Ciel an exploration of the divine and the human in several cantatas, choirs and arias signed, J.S. Bach.
CONCERT PRESENTOR : DESJARDINS CAISSE DE LACHINE
---
   Program : Cathédrale Bach
I LA FONDATION

-Motet Unsere Trübsal
-Prélude improvisé : Olivier Brault

JOHANN LUDWIG BACH (1677-1731) cousin de J.S. BACH

-Cantate Friede sei mit Dir BWV 158

Pour soprano, baryton, choeur et ensemble instrumental

JEAN-SÉBASTIEN BACH (1685-1750)
I LA NEF

-Motet Die mit Tränen säen
-Prélude improvisé : Mélisande McNabney

GOTTFRIED A. HOMILIUS (1714-1785) étudiant de J.S. BACH

-Motet Lobet den Herrn BWV 230

JEAN-SÉBASTIEN BACH (1685-1750)
III LE TOIT

-Prélude improvisé : Mélisande McNabney

-Motet Es in nun aus mit meinem Leben

JOHANN CHRISTOPH BACH (1642-1703) grand-oncle de J.S. BACH

-Cantate Ich habe genug BWV 82a

Pour pour soprano, flûte, cordes et  bc

JEAN-SÉBASTIEN BACH

(1685-1750)

IV LE CHOEUR

-Choral Jesus bleibet meine Freude BWV 147

JEAN-SÉBASTIEN BACH

(1685-1750)
---
Ensemble Caprice
Myriam Leblanc – soprano
Jonathan Adams – baryton
Sophie Larivière – flûte
Olivier Brault – violon
Lucie Ringuette – violon
Pemi Paull – alto
Susie Napper – violoncelle
Reuven Rothman – contrebasse
Mélisande McNabney – clavecin
Ensemble vocal Arts Québec
Anne-Marie Beaudette, Ariadne Lih, Marie Magistry – soprano
William Duffy, Claudine Ledoux, Meagan Zantingh – alto
Jean-Sébastien Allaire, Kerry Bursey, Haitham Hadar- ténor
John Giffen, Thomas Jodoin-Fontaine, William Kraushaar – basse
Matthias Maute – musical director
Biography
ENSEMBLE CAPRICE
Founded by flautist Matthias Maute, the Ensemble Caprice has become, over the decades, a staple in the world of classical music. It is recognized for its creative and innovative programs and its dynamic and compelling interpretations. The musicians of the Ensemble Caprice have traveled the four corners of the globe. They have given concerts on four continents in dozens of countries. The Ensemble has toured Asia, China and Taiwan, Africa, Morocco, Tunisia and South Africa, several countries in Europe and the Americas. An impressive roadmap that places Caprice among the most important baroque ensembles today. The recording activities of the Ensemble Caprice are just as impressive, with over twenty records released by Analekta, ATMA Classique and Antes, and distributed in some fifty countries. Ensemble Caprice was recognized for its work and artistic approach by receiving the "Public's Choice" recognition at the Grand Prix de Montréal, awarded by the Conseil des arts de Montréal. Other important nominations include those for the Echo Klassik Prize in Germany, the Prix Opus and for l'Association québécoise de l'industrie du disque
Matthias Maute has carved out a solid international reputation for himself as one of the best performers of his generation, both on recorder and flute, as well as a composer and conductor. As a conductor, Matthias Maute is distinguished by his work as artistic director of L'Ensemble Caprice, where he ingeniously conceives and directs unusual and captivating programs. With his Ensemble, he regularly participates in festivals all over the world. He is also the Music Director of the Bach Society of Minnesota and has been invited to conduct several ensembles and orchestras in Canada and abroad.
Thank you to all our sponsors
Public partners
Season sponsors – Gold
Season sponsors – Silver
Season sponsors – Bronze
Concerts sponsors