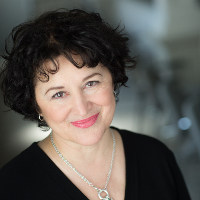 A native Montrealer, soprano Chantal Lambert graduated with great distinction from the Quebec Conservatory of Music, having won first prize unanimously, under the tutelage of tenor André Turp and lead pianist Janine Lachance. Then, she was a resident for three years at l'Atelier lyrique de l'Opéra de Montréal, where she refined her art with high-end teachers and artists. She made her professional debut playing Métella (La Vie parisienne) for the company Les Nouvelles Variétés Lyriques.
Having taken over for Yvonne Goudreau in 1990, she has made the Atelier lyrique an institution in her image, where the demands of the training are not met at the expense of human rapport. Since 1990, she has led this Opéra de Montréal young Canadian artists' program that remains her Alma Mater.
While at the helm of l'Atelier lyrique, Chantal Lambert continued to sing on stage in works of opera, opérette, melody and song. She has sung in 16 Opéra de Montréal productions, namely the title role in La Belle Hélène and the solo role in Poulenc's La Voix humaine. In concert, she was often a guest soloist for l'Orchestre Métropolitain, I Musici and l'Orchestre baroque de Montréal. She performed at several festivals (Orford, Lanaudière, Lachine, Trois-Rivières), and has sung an impressive number of recitals since the turn of the century. She is an appreciated contributor to the training of future generations of young lyrical artists. Praised for her natural gifts as a communicator and her knowledge of lyrical art and its demands, Chantal Lambert is the presenter and host of many concerts, and young artists' programs (i.e. the Orford Arts Centre, Canadian Opera Arts Academy, Highlands Opera Studio, L'Académie international de Lachine) often call upon her to teach performance, lyrical diction, and career development. She is the author of a linguistics book, the Petit lexique de L'Opéra (French, English, Italian and German) for lyrical artists. She was the president of the Conseil Québécois de la musique from 2008 to 2011 and sits on the administrative board of Opera.ca (Canadian opera companies' association) since autumn 2018.
In May 2016, she was inducted in the Panthéon canadien de l'Art lyrique. In his tribute to Chantal Lambert, Opéra de Montréal artistic director Michel Beaulac had this to say about her: "One must spell the word ARTIST in capital letters when it comes to Chantal Lambert. Her professionalism, her devotion to music are exemplary and have literally changed the lives of hundreds of young artists and of privileged colleagues of which I am one. Yes, we must spell the word ARTIST in all the colours of the rainbow, because of her immense love of music and art in all its forms; because of her unshakable faith in others and their dreams; because Chantal the convinced one, the dreamer, is always searching for this "Rainbow connection". Her impressive and eclectic career, paved with riguour, passion, involvement, and authenticity is saluted by all those who have met and known her."