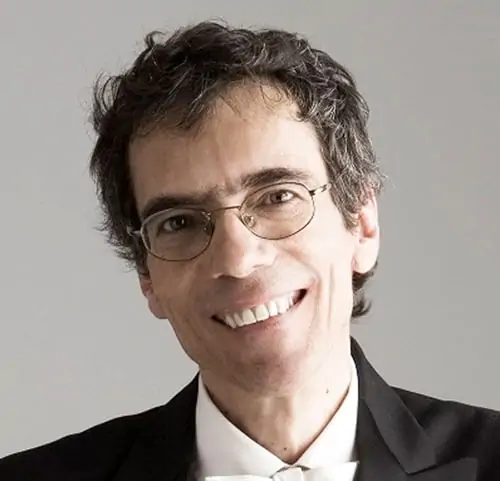 Event details
Sunday | 5 December 2021 to Sunday | 12 December 2021
15:00
On Concert Lachine's Facebook page and website
Free Admission / $10 Suggested Donation
Richard Paré, organist, will present works from Bach, Raison, Handel Dandrieu, Duron,  Cabanilles as well as improvisations.
This is a replay of a concert held on November 28th, 2021 as Saints-Anges church
The concert is on our Facebook and on this page.
It includes:
-Introductory talk
-Concert
-Discussion with the artist
The concert is free of charge. Suggested donation: $ 10. Make a donation
Means of accessing the virtual concert
---
Biography
Richard Paré received his formation at the Music Conservatory of Quebec and graduated with three fist prizes: organ, harpsichord and chamber music. While pursuing his activities as an interpreter, he pursued an academic career as a professor at Laval University in Quebec City. Besides instrumental (organ, harpsichord) and theory teaching, he acts as music director of the Atelier de Musique baroque he instigated. Founder member of the chamber orchestra Les Violons du Roy, he has toured with them in many occasions, in Europe, United States and throughout Canada, having the opportunity to perform at Carnegie Hall in New York and the Royal Concertgebouw in Amsterdam, among other places. Invited by various concert societies, Richard Paré has performed in many Canadian cities. He has been invited five times to play with the New-
World Symphony Orchestra in Miami, Florida. Between 2006 and 2001, he was guest soloist with the New York Philharmonic Orchestra, the Los Angeles Philharmonic Orchestra, the San Francisco Symphony and the Chicago Symphonic Orchestra, in organ works from Bach and Handel. He recently had the opportunity to inaugurate the new Casavant organ installed at the Palais Montcalm concert hall, with the Violons du Roy, under Bernard Labadie, in a series of four concerts. In 2014, together with the Violons du Roy, he presented Francis Poulenc's Organ Concerto and played in the first part of the complete Handel's Organ Concertos presentation, under Mathieu Lussier. Since 2015, he is regularly invited by the Music of the Royal 22nd Regiment as soloist. Richard Paré is organist in residence at the Palais Montcalm Maison de la musique and titular organist at the Saints-Martyrs-Canadiens church in Quebec City.
---
Program
Offerte du 5e ton sur "Vive le Roy des Parisiens"
ANDRÉ RAISON
(1640 – 1719)
Concerto no. 4 pour orgue en ré mineur op. 7  
-Adagio
-Allegro
-Organo ad libitum
-Allegro
GEORGE FREDERIC HANDEL
(1665 – 1759)
Fantaisie et fugue en sol mineur BWV 542
JOHANN SEBASTIAN BACH
(1685 – 1750)
Gaitilla de mano izquierda
SEBASTIAN DURON
(1660 – 1716)
Batalla Imperial
JUAN BAUTISTA JOSÉ CABANILLES
(1644 – 1712)
Noël « Puer nobis nascitur »
JEAN-FRANCOIS DANDRIEU
(1682 – 1738)
Sortie de messe de minuit (basée sur une improvisation)
RICHARD PARÉ
---
Thank you to all our sponsors
Public partners
Season sponsors – Gold
Season sponsors – Silver
Season sponsors – Bronze
Concerts sponsors