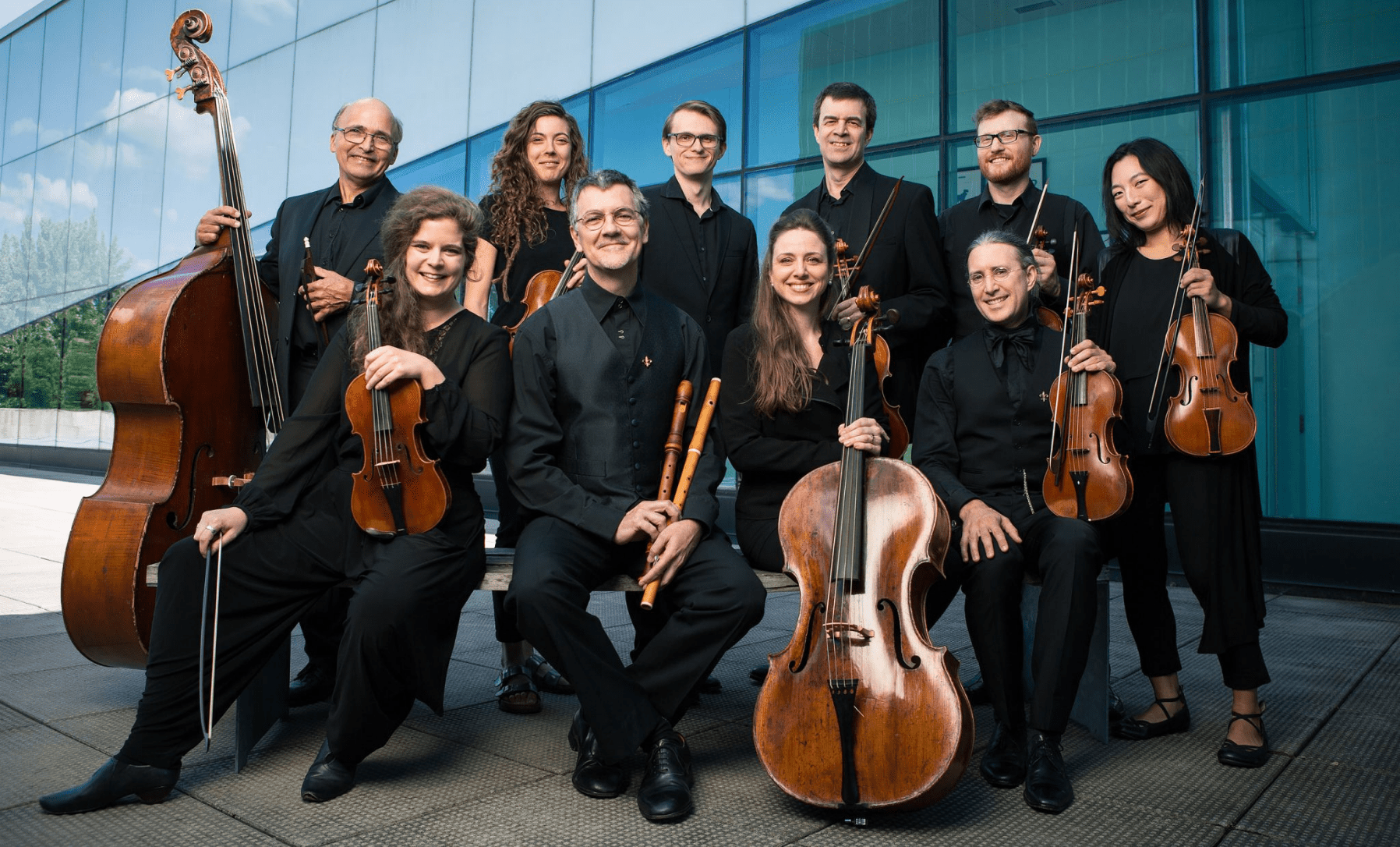 Event details
19 July 2022
19:30
L'Entrepôt 2901 Bd Saint-Joseph Lachine, QC H8S 4B7
Free admission (ticket required) | Suggested donation: 10$
The magic of French baroque music masters such as Marais, Couperin, Rameau and others performed by the superb, Les Boréades de Montréal.
This concert is presented in person.
A ticket (free) is required to access the concert
Suggested donation : 10$ – Make a donation 
Tickets available online right now
Tickets also available at the door before each concert (60+ tickets)
Presented by 
Concert: J.J. Cardinal Résidence Funéraire – Lachine 
TICKETS
Biography
LES BORÉADES DE MONTRÉAL
Francis Colpron, recorder
Olivier Brault, violin
Mélisande Corriveau, viola da gamba
Mylène Bélanger, harpsichord
Specializing in the Baroque repertoire, the ensemble Les Boréades was founded in 1991 by Francis Colpron. His approach is a faithful period interpretation, both by respecting the rules of ancient practice and by using period instruments. Critics and audiences in Canada and abroad have unanimously praised the energy, spontaneity and the theatrical, expressive and elegant playing of the ensemble, qualities that testify to an intimate understanding of the spirit of Baroque music.
The ensemble has toured extensively, both in Quebec and abroad, and participated in several prestigious festivals. The ensemble has also performed at the Frick Collection in New York, at the Concertgebouw in Amsterdam, at the Salle Gaveau in Paris, at the Vancouver Festival, at Musikfest Bremen and at Alter Musik Regensburg.

Les Boréades has also collaborated with internationally renowned musicians, including Hervé Niquet, director of the Concert Spirituel, Skip Sempé, harpsichordist and director of Capriccio Stravagante, violinist Manfred Kraemer, cornetist William Dongois, tenor Charles Daniels and Canadian singers Matthew White and Karina Gauvin. It also has a solid discography of twenty-five recordings distributed around the world to its credit. Les Boréades record on the Atma Classique label.
Program
Sonate en trio pour flûte
traversière, violon et basse
continue nº3 en ré mineur,
original en si mineur (Troisième
oeuvre de sonates, Paris, 1712)
– Prélude
– Fugue
– Grave
– Vivement

Jacques Hotteterre dit le romain
                                 (1681 – 1729)

Nouvelles suites de pièces
de clavecin (Paris, 1728)
– Les Sauvages
– L'Enharmonique               
– L'Égyptienne


Jean-Philippe Rameau

                    (1683 – 1764)
Pièces de viole et basse continue
(4e livre de pièces de viole avec 
la base continue, Paris, 1717)
– Musette
– Biscayenne

Marin Marais
                                 (1656 – 1728)

Pièces de viole et basse continue
(Pièces de viole avec la basse 
chiffrée, Paris, 1728)
– Le Dodo ou l'enfant au berceau 


François Couperin

                    (1668 – 1733)
Quatrième sonate pour flûte
traversière et violon par accord
sans basse, opus 51 (Paris, 1734)
– Adagio
– Allegro
– Aria – affettuoso
– Gavotta

Joseph Bodin de Boismortier
                                 (1689 – 1755)


ENTRACTE / INTERMISSION
 

 
Sonate pour flûte à bec et basse 
continue en ré mineur (1er livre
de pièces, 1712)
– Lentement
– Fugue
– Courante 
– "Les notes égales et détachées" 
– Fugue

Anne Danican Philidor
                                 (1681 – 1728)

Sonate pour violon et basse 
continue en ré mineur (Paris, 1707)
– [Prélude] 
– Presto 
– Adagio/presto/adagio
– Presto
– Aria
– Presto


Elisabeth Jacquet de la Guerre

                    (1665 – 1729)
Chaconne de la première suite 
en trio de do majeur pour flûte à bec, 
violon et basse continue
(Pièces en trio, Paris, 1692)


Marin Marais

                    (1656 – 1728)
Thank you to all our sponsors 
PUBLIC PARTNERS
SEASON SPONSORS – GOLD
SEASON SPONSORS – SILVER
SEASON SPONSORS – BRONZE 
CONCERT SPONSORS