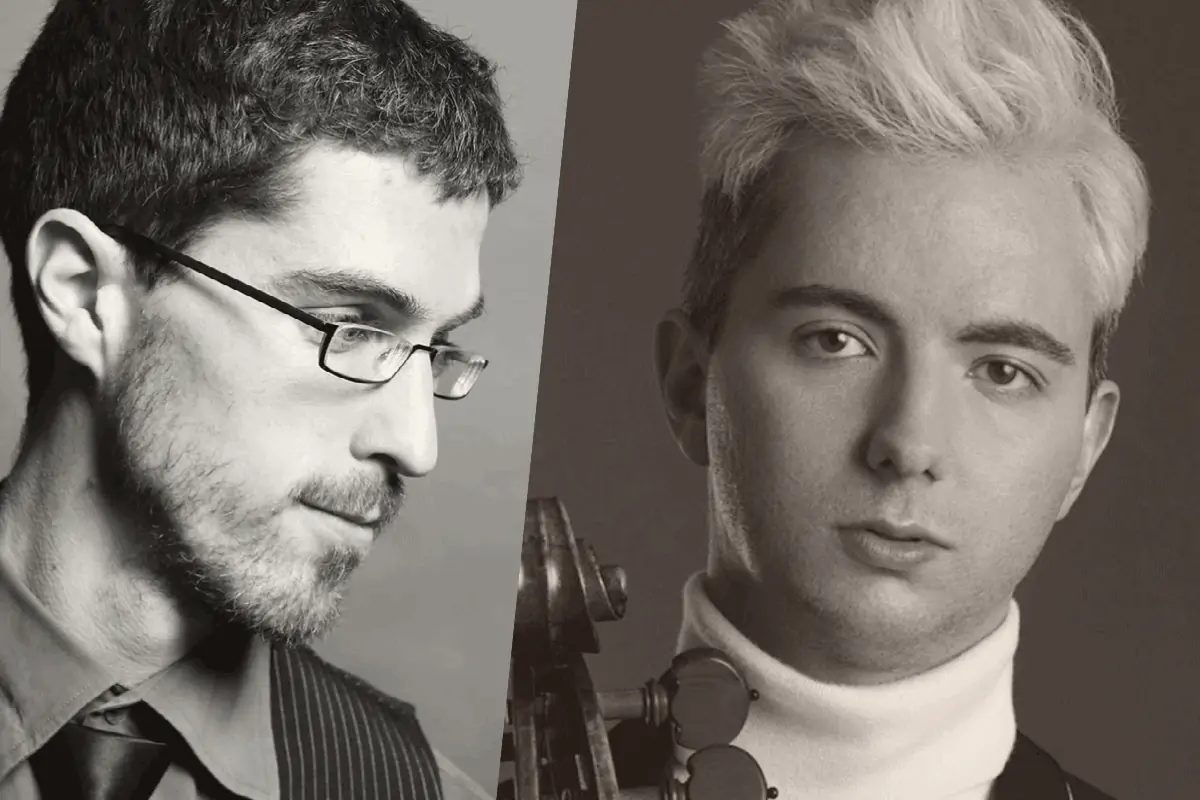 Event details
26 September 2021
15:00
Eglise Saints-Anges 1400, Saint-Joseph Blvd Lachine (Qc) H8S 2M8
Stéphane Tétreault, cello and Louis Brouillette, organ will present works by Debussy, Bach, Saint-Saëns, Pärt and Racine.
This concert takes place at  Saints-Anges Church
Free admission; seats will be designated when you arrive.
The church configuration will allow to observe physical-distancing rules.
For a pleasant and safe experience for all, please: 
-Arrive at least 10-15 minutes before the start of the concert
-Show your vaccine passport to access the concert
-Follow the instructions of staff and volunteers during your visit
-Masks are mandatory but may be removed once you are seated
-Respect distancing and respiratory etiquette
-Avoid coming if you are experiencing any symptoms of COVID-19 or have been in contact with someone diagnosed with the virus.
---
Programme
Clair de lune
(arrangement pour orgue)

CLAUDE DEBUSSY
(1862-1918)

Suite pour violoncelle no. 1 en sol majeur BWV 1007
-Prélude
-Gigue

JEAN-SÉBASTIEN BACH
(1685-1750)

Prière pour violoncelle et orgue

CAMILLE SAINT-SAËNS
(1835-1921)

Casse-noisette "Danse de la fée Dragée"
(arrangement pour orgue de Noel Rawsthorne)

PIOTR LLITCH TCHAÏKOVSKI
(1840-1893)

Frates
(arrangement pour violoncelle et orgue)

ARVO PÄRT
(1935-   )

Concerto pour orgue en la mineur BWV 593
(d'après le Concerto pour deux violons en la mineur, RV 522 d'Antonio Vivaldi)
-Allegro
-Adagio

BACH / VIVALDI

Suite pour violoncelle et orgue
-Prélude pour orgue
-Prélude pour violoncelle
-Menuet pour violoncelle et orgue

JEAN-FRANCOIS RACINE
(1990-   )

Esquisses bizantines "Tu es Petra"

HENRI MULET
(1878-1967)

Suite pour orchestre no. 3 en ré majeur BWV 1068
2e mouvement (connu sous le titre Air sur la corde de sol; arrangement pour violoncelle et orgue)

JEAN-SÉBASTIEN BACH
(1685-1750)
---
Thank you to all our sponsors
Public partners
Season sponsors – Gold
Season sponsors – Silver
Season sponsors – Bronze
Concerts sponsors