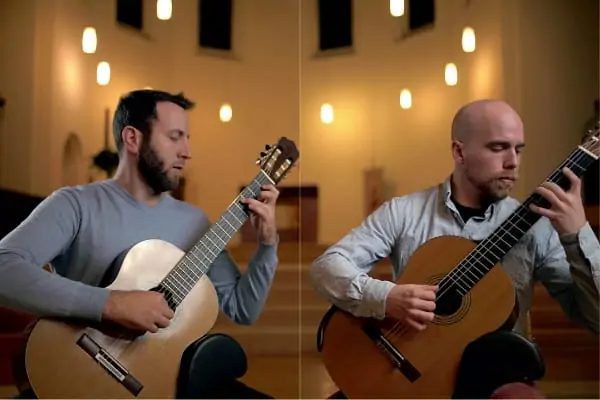 Event details
11 July 2020
19:00
On Facebook Live (Link published the day of the concert)
Free admission | Suggested donation : $10
Adam Cicchillitti, guitar
Steve Cowan, guitar.
The fabulous guitar duet of Adam Cicchillitti and Steve Cowan offer a wonderful recital of 20th century French including works by Debussy, Ravel and Tailleferre.
How to attend the concert
The concert is on Facebook Live and on this webpage
It begins at 7 pm and includes:
Introductory talk by  Richard Turp
Concert
Conversation / questions
The concert is accessible free of charge, but we suggest a donation of $ 10 per concert. Make a donation
Means of accessing the virtual concert
Click the link sent by newsletter 1 to 2 days before each concert

(subscribe to our newsletter).

The link to access the concert on this site will be available the day of the concert
Can't attend the concert

?

Recordings of the concerts will be available for 7 days, on this page.
LIVE BROADCASTING OF THE CONCERT:
Important: disregard the time indicated in the box below. The concert takes place at 7pm.
Adam Cicchillitti and Steve Cowan's video :