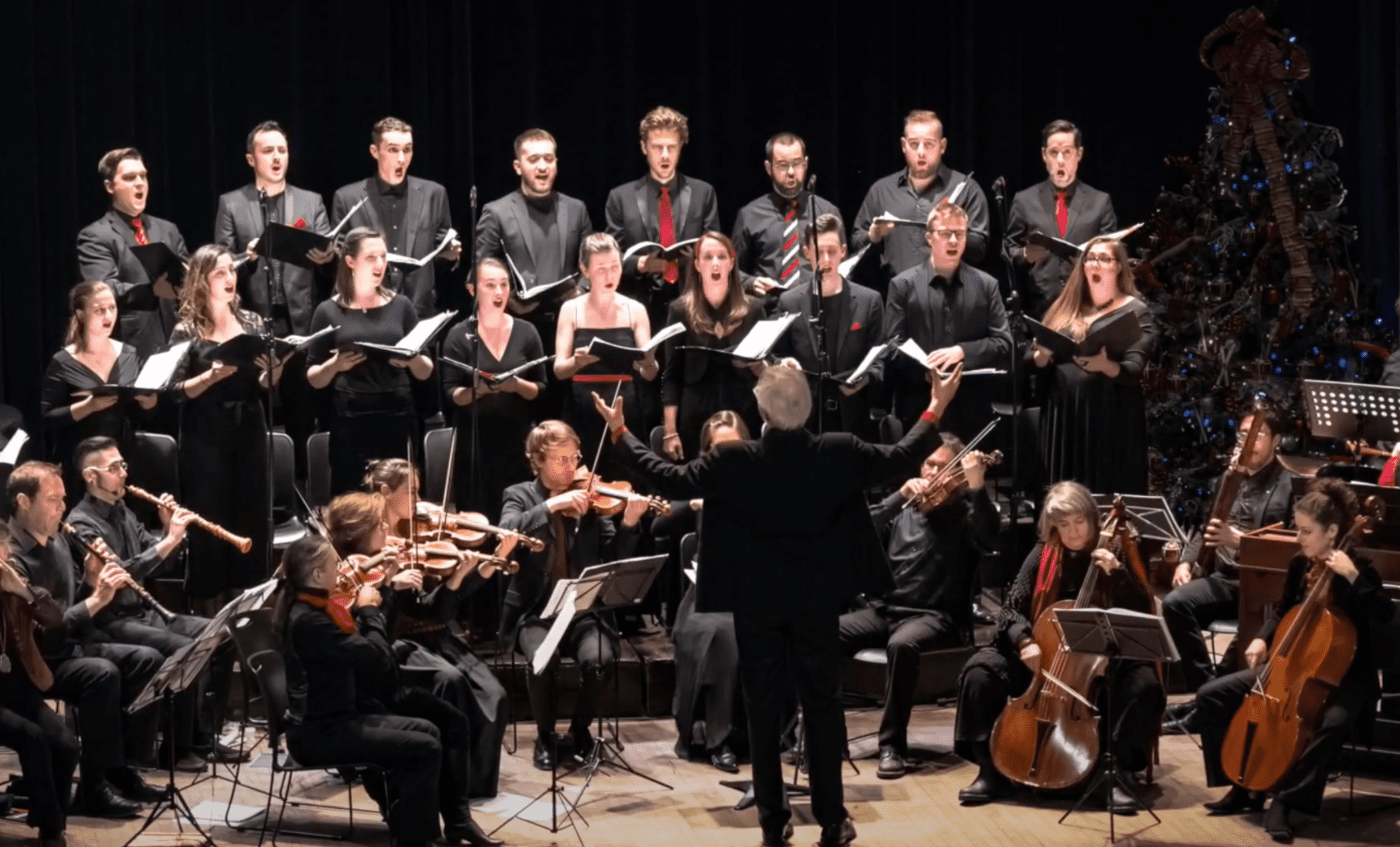 Event details
8 July 2022
19:30
Église St-Anges 1400 Bd Saint-Joseph Lachine, QC H8S 2M8
Free admission (NO ticket required) | Suggested donation: 10$
A fabulous choral concert featuring masterpieces by Monteverdi, Carissimi et Chiara Margarita Cozzolani.  
This concert is presented in person at the Saints-Anges Church
No tickets are required for this concert at the church
Suggested donation : 10$  Donate
Presented by
Talk: Spinelli

Concert: Spinelli
Program
I
Mariea Chiara Cozzolani
Deus in adiutorium a otto, 1650
Dixit Dominus a otto, 1650

II
Andrea Falconiero
Battaglia de Barabasso yerno de Satanas
Maria Chiara Cozzolani 
Beatus Vir in forma di Dialogo

III
Giovanni Pierluigi da Palestrina 
Regina Coeli
Anonyme
Passaccalli della vita
Claudio Monterverdi 
Ave Maris stella 1610

IV
Claudio Monteverdi 
Si dolce è 'l tormento 1603
Maria Chiara Cozzolani 
Magnificat primo a otto, 1650
Biographies
ENSEMBLE VOCAL ARTS-QUÉBEC
Ensemble vocal Arts-Québec is a professional choir apart of the great tradition of choral singing in Quebec. After being directed for almost 40 years by its founder Yves Courville, the choir has appointed Matthias Maute as its new artistic director. Since its creation, the Ensemble vocal Arts-Québec has drawn on the repertoire of great masterpieces for voice and orchestra. Following the success of the performances of the oratorio The Triumph of Time and Truth by Händel, the choir was chosen to take part in the celebration of the 30th anniversary of the Ensemble Caprice with the Mass in B by J. S. Bach at the Bourgie Hall. Since 2018 and as part of numerous collaborations with Ensemble Caprice, the choir has given concerts in Quebec in Saint-Jérôme, Saint-Jean-sur-Richelieu and Terrebonne, as well as in Westmount and Montreal. During one of its tours, the choir presented the famous oratorio Messiah by Händel in several regions of Quebec.
Soprano
Ariadne Lih
Janelle Lucyk
Denise Torre
Dorothéa Ventura
Alto
Alexandra Asher
Ghislaine Deschambault
Josée Lalonde
Marie-Andrée Mathieu
Conductor
Matthias Maute
–
ENSEMBLE CAPRICE
Founded by flutist Matthias Maute, Ensemble Caprice is a baroque formation playing period instruments and recognized for the innovative and audacious spirit it instills in the repertoire. In addition to its series of concerts in Montreal, the group performs several tours each year: a remarkable influence, with dozens of concerts given in Quebec, Canada, the United States, Europe and Asia. He is regularly invited to prestigious festivals across Europe. In the United States, the group plays at the Frick Collection (New York), at the Boston Early Music Festival and at the Library of Congress in Washington, D.C. An impressive track record that places Caprice among one of the most important current Baroque ensembles . The recording activities of the Ensemble Caprice are just as flourishing, with around twenty records (winners of numerous awards) released by Analekta, ATMA Classique and Antes, distributed in around fifty countries.
Violin
Lucie Ringuette
Mélanie de Bonville
Cello
Susie Napper
Double bass 
Reuven Rothman
Recorder
Sophie Larivière
Vincent Lauzer
Theorbo
David Jacques
Hapsichord 
Mylène Bélanger
–
MATTHIAS MAUTE, CONDUCTOR 
Matthias Maute has earned a solid national and international reputation as a conductor, choirmaster and composer as well as one of the best performers of his generation, both on the recorder and the transverse flute. For several years, Mr. Maute has devoted a large part of his work to conducting choirs and orchestras, notably with the Ensemble Caprice (which he co-founded with his wife, Sophie Larivière). Matthias' compositions occupy an important place in the world of contemporary music for recorder while his discography includes more than twenty remarkable recordings. He also teaches at the University of Montreal and at McGill University in Montreal. Matthias Maute, who won a Juno Award for his recording with choir Vivaldi and his Angels, has acquired an enviable reputation for the excellence of his work as artistic director of Ensemble Caprice, from the Bach Society of Minnesota in the United States -Unis, and the Concerts noncerto series, as well as co-artistic director of the Montreal Baroque Festival.