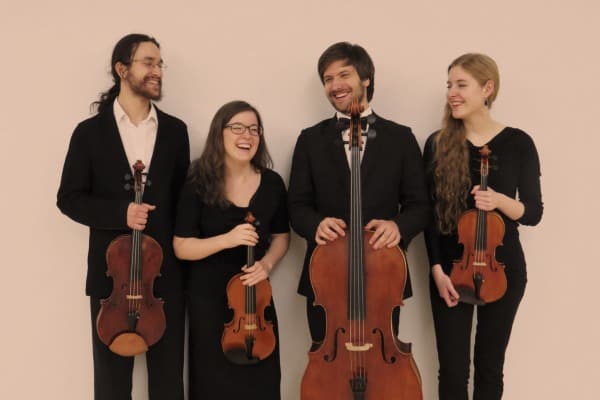 Event details
6 July 2021
19:30
L'Entrepôt Concert Hall- complexe Guy-Descary 2901 Saint-Joseph Blvd, Lachine, QC H8S 4B7
Free Admission | Suggested donation $10
The brilliant ensemble, the Quatuor Andara offers you two of Beethoven's most famous and rewarding quartets; the intriguing opus 95 and the immense opus 132.

This concert is held at L'Entrepôt Concert Hall 
A ticket is required to access the Concert hall (no ticket can be obtained at the Concert Hall)
SCHEDULE:  
Introductory talk 19h10
Concert 19h30
COMPLIANCE WITH THE MEASURES : 
Seats are be pre-assigned
Physical-distancing rule is observed
Areas have been setup for each spectator or each group of spectator living at the same address
Staff and volunteers will ensure compliance with the rules
FOR A PLEASANT AND SAFE EXPERIENCE FOR ALL, PLEASE: 
Arrive at least 15-30 minutes before the start of the concert
Follow the instructions of staff and volunteers during your visit
Masks are mandatory but may be removed once you are seated.
Respect distancing and respiratory etiquette
Avoid coming if you are experiencing any symptoms of COVID-19 or have been in contact with someone diagnosed with the virus.
Get tickets
Tickets become available June 28, 7am
---
Program
QUATUOR À CORDES NO 11 EN FA MINEUR, OP.95, « SERIOSO »

Allegro con brio
Allegretto ma non troppo
Allegro assai vivace ma serioso – più allegro
Larghetto espressivo – allegretto agitato

L. VAN BEETHOVEN

(1770 – 1827)

PAUSE
QUATUOR À CORDES NO 15 EN LA MINEUR, OP 132

Assai sostenuto – Allegro (la mineur)
Allegro ma non tanto (la majeur)
"Heiliger Dankgesang eines Genesenen an die Gottheit,in der Lydischen Tonart". Molto adagio – Andante
Alla marcia, assai vivace
Allegro appassionato

L. VAN BEETHOVEN

(1770 – 1827)
---
Biography
QUATUOR ANDARA
The young and already established, Quatuor Andara stands out as much for its dynamism as its quality of execution. It was in September 2014, performing Ravel's Quartet in F major, that its members met for the first time at the Montreal Conservatory of Music, under the tutelage of Denis Brott. Since then, their passion and their complicity have brought them to stages all over Quebec. Numerous high-level international workshops have allowed them to work with musicians such as Günter Pichler, Mathieu Herzog and the Talich and Emerson String Quartet as well as the St. Lawrence String Quartet in Stanford (CA) in the summer of 2018 and the Shanghai Quartet at the Pablo Casals Festival in France in 2017 as well as working with Barry Shiffman and Mark Steinberg at the Banff Chamber Music Residency in 2016. This marks their fourth performance at the Lachine Music Festival. Marie-Claire plays on an Andrea Guarneri violin of Cremona 1660 as well as a Hill & Sons bow, and Dominique plays on a David Tecchler cello (1704) as well as a Pierre Simon bow (c. 1855), all graciously provided to their disposal by the Company Canimex Inc. of Drummondville (QC), Canada.
---
Thank you to all our sponsors
Public partners
Season sponsors – Gold
Season sponsors – Silver
Season sponsors – Bronze
Concerts sponsors